LEGO Magazine: How To Get The Free LEGO Life Magazine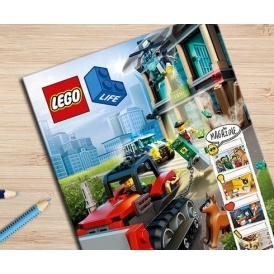 Have a little one that can't get enough LEGO? Did you know there is a free LEGO Magazine that gets sent out five times a year and it's 100% free for LEGO fans to sign up?
If you have a child aged between 5 and 9 you can sign them up for free right on the LEGO website, the site requires a parent or guardian to fill out the consent form and that's it.
Oh and did we mention it's free?

See also: Free LEGO Replacement Parts: Here's How to Get Them (with Pictures)
LEGO Magazine
Your little LEGO fan will look forward to the LEGO Life Magazine being delivered to your door each time and the best part is they'll keep sending them until your little one turns 10.
It's super easy to do and the kids absolutely love it.
My son loves LEGO, lately we've been building Pokemon themed LEGO and whenever we get these magazines throughout the year he loves browsing them for anything he likes. The cool thing is the LEGO Life Magazines are themed so each one looks and feels different.
What is the LEGO Life Magazine?

The LEGO Life Magazine is an easy to sign up for magazine that's sent out by LEGO 5 times per year and includes news, challenges, puzzles and even sneak peeks at new LEGO sets and themes before they become available.
Here's what you can expect:
The LEGO Life Magazine is full of comics, activities, building tips and a ton more.
You'll get the LEGO Life Magazine 5 times a year and you can cancel anytime.
The LEGO Magazine is ideal for ages 5-10.
LEGO Magazine Sign Up
To sign up, just visit the LEGO Life Magazine page on LEGO's website and scroll down to the sign up section where you'll be able to sign up for your free subscription.