LEGO Life Magazine 2018: Free LEGO Magazine For Kids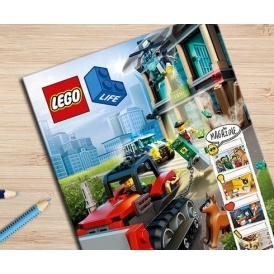 If you didn't know about LEGO Life Magazine, now is the time to learn about it.
Did you know LEGO offered a free magazine for kids? The free LEGO Life Magazine gets sent out five times a year and it's 100% free for LEGO fans to sign up!
If you have a child aged between 5 and 9 you can sign them up for free right on the LEGO website, the site requires a parent or guardian to fill out the consent form and that's it.
Oh and did we mention it's free?
LEGO Life Magazine 2018
Your little LEGO fan will look forward to the 2018 LEGO Life Magazine being delivered to your door each time and the best part is they'll keep sending them until your little one turns 10.
It's super easy to do and the kids absolutely love it.
My son loves LEGO, lately we've been building Pokemon themed LEGO and whenever we get these magazines throughout the year he loves browsing them for anything he likes.
The cool thing is the LEGO Life Magazines are themed so each one looks and feels different. It's nice to have the kids go through them for Christmas too!
What is the LEGO Life Magazine?

The LEGO Life Magazine is an easy to sign up for magazine that's sent out by LEGO 5 times per year and includes news, challenges, puzzles and even sneak peeks at new LEGO sets and themes before they become available.
Here's what you can expect:
The LEGO Life Magazine is full of comics, activities, building tips and a ton more.
You'll get the LEGO Life Magazine 5 times a year and you can cancel anytime.
The LEGO Magazine is ideal for ages 5-10.
Is the LEGO Life Magazine free?
Yes, that's the best part about this magazine from LEGO, it's 100% free.
How do I sign up for LEGO Magazine?
To sign up, just visit the LEGO Life Magazine page on LEGO's website and scroll down to the sign up section where you'll be able to sign up for your free subscription.
When will the first magazine arrive?

For those new to LEGO Magazine you can expect your free LEGO Life magazine to arrive within 14 weeks of requesting your subscription.

What ages are recommended for LEGO Magazine?
LEGO Magazine is made for ages 5-10 and you must live within the United States or Canada
When is the next issue of LEGO Magazine expected to arrive?

The next issue of LEGO Magazine is expected July 2018. We'll be covering whenever issues are expected to be released and update this post here.
What about a LEGO Magazine address change?
Need to change your address after already ordering LEGO Magazine once? Don't worry just go into your account settings to change your address.
Where can I find the LEGO Life App?
The LEGO Life App can be downloaded straight from LEGO. They mention this is best for children outside the range for the LEGO Life Magazine or for any LEGO parents.
---
Related Buyer's Guides and MomDeals' Lists: