LA's Totally Awesome Cleaner: A Quick Review (2018)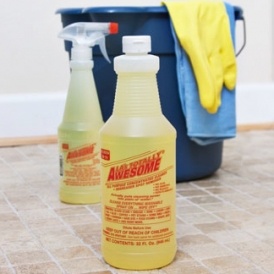 You're probably thinking:
I can't believe I'm searching for a silly cleaner.
But really, it's not just you.
There are thousands of us who tried LA's Totally Awesome Cleaner and were floored by the results.
That's why we decided a Totally Awesome review was needed on this popular cleaner!
...and the best part?
It's only a buck!
That's right, an awesome cleaner for just a dollar? You can't beat it!
If you're looking to grab a bottle of LA Totally Awesome Cleaner it's available for purchase through Amazon or you can visit the Dollar General online to do so.

LA's Totally Awesome Cleaner
With how popular LA Totally Awesome Cleaner has become and how it's mostly gotten so big just by word of mouth, we figured it deserved it's own post breaking it all down.
Whether you're looking to buy Awesome Cleaner, read a quick review or have some questions before buying, this review should be helpful.
Totally Awesome Cleaner Review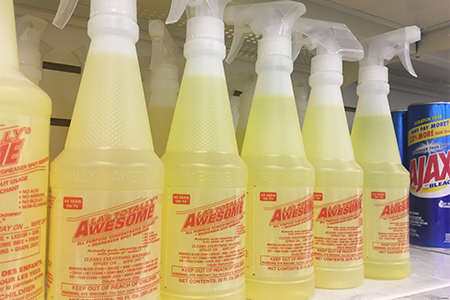 LA's Totally Awesome Cleaner claims to clean everything washable and it was time to put it to the test, so off to the store I went to grab a bottle....
At the store I found not only LA's Totally Awesome All Purpose Cleaner but also a wide variety of products including glass cleaner and degreaser from the Totally Awesome brand.
I figured I'd grab a couple and try them out since they only cost $1.
Here's some of the products I spotted: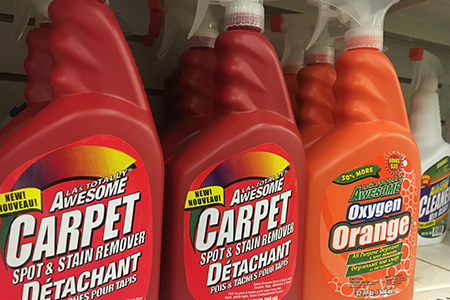 On the bottle, you quickly see all of the ways the cleaner can be used:
Blood stains, grease, wine, liquor, gum, oil, glue, coffee, pet stains, some inks, fresh paint, varnish, hair dye, food stains, grape juice, berry juice and much more.
Great, while I only had a dirty kitchen to test it on, I figured what the heck, with how good the reviews are and how much it can be used to clean, I should see a difference before and after just with this one bottle....
...when I got home I quickly pulled out the bottle and tried the cleaner on my dirty kitchen.
The cleaner completely blew away any expectations I had of it.

I cleaned my stove with it with amazing results, the baseboards in my kitchen with amazing results, I kept moving from my fridge to the cabinets and the results were amazing. The crud pretty much just wiped up instantly with this cleaner and I really wasn't expecting it to be that good, but it was.
For only a buck I felt like I got my money's worth after just one use.
After testing a bit more I realized there's more uses for this cleaner than just the kitchen.
I went ahead and used this in the bathroom too (toilet, bathtub and sink) and I decided this would be my go to cleaner from now on, the price was can't-miss and the results were amazing.
LA Totally Awesome Cleaner Uses

You've probably heard some amazing uses for this cleaner, people have shared various ways of using the Totally Awesome Cleaner, and we'd love to hear how you've used it.
The uses for LA Totally Awesome Cleaner are seriously seem to be endless.
Here's Totally Awesome Cleaner uses straight from the bottle:
Pet Stains, Walls, Woodwork, Window Frames, Carpets, Upholstery, Ovens, Chrome, Porcelain, Fiberglass, Tile, Linoleum, Clothes, Stainless Steel, Walls, Typewriters, Adding Machines, Presses, Floors, Equipment, Cement, Furniture, Glass, Degreasing, Door Frames, Paint on hands and more.
LA Totally Awesome Cleaner Ingredients
Wanting to find out what's inside LA's Awesome Cleaner?
We're sharing the ingredients below so you can take a look before buying:
Orange Oil Blend
Ethoxylated Alcohol
Disodium Salt
Tetra Sodium EDTA
Hydroxy Sodium


Water
The Verdict

At this price the cleaner is a bargain and the results I got (and many others who've reviewed this cleaner) were great. If you're needing to clean your home this week, grab some and give it a try and come back to let us know how it went.
---
Related Buyer's Guides and MomDeals' Lists:
Your turn: Have you tried LA Totally Awesome Cleaner? Let us know we'd love to hear! What uses have you found with this cleaner that we missed?