What is Target Cartwheel? All your questions answered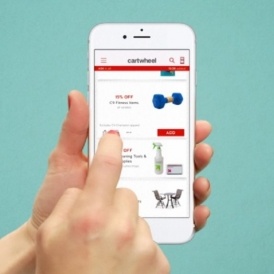 What Is Target Cartwheel?
Target Cartwheel is a Target couponing program that allows users to choose-their-own-coupons on hundreds of Target products.
Inside cartwheel, you'll see hundreds of deals, offers and discounts on items you're already buying and also exclusive deals just for Cartwheel users.
All of the discounts range from 5-50% off and can be from any department at Target or at Target.com.
Target Cartwheel is a no-brainer for those who regularly shop at Target or anyone who loves getting good deals in general. The best thing about Cartwheel is it's completely FREE and can be signed up for with your Target.com account, a Facebook account or a Google account. It also comes with a super easy to use app available for both iOS and Android.
Through your account, whether you decide to use an app or the website directly, you can save offers directly to your cartwheel account where you'll be able to use them at checkout when shopping at Target by either showing the associate your phone at checkout, or by printing out the offers.
Q.: How does Target Cartwheel work?
A.: First, you go to the cartwheel website or open the Cartwheel app on your mobile device. Then login with your Target.com account, your Facebook or your Google account. Once your inside you'll be able to save exclusive coupons straight to you account to be used on your next shopping trip to Target.
Q.: What are the perks of Target Cartwheel?
Completely FREE and you can signup with your Target.com account, a Facebook account or a Google account.
Available on both iTunes and Android.
You can add offers from your mobile device or computer.
You can print offers if you'd rather not scan your phone.


Exclusive offers from all departments.

Share Target Cartwheel offers with Facebook friends.
Stack Manufacturer coupons, Target store coupons (paper or mobile) and Target Cartwheel offers all on the same item.
Enjoy extra benefits called badges you from sharing, saving and interacting on the Cartwheel app.
Q.: How do I use Target Cartwheel offers?
A.: Cartwheel offers can be claimed from your mobile device or from your computer by going to their website here. Then you can either have the associate to scan the offer from your phone, or print it and bring it with you.

Q.: Do I Get Exclusive Deals with Target Cartwheel?
A.: Yes. Target offers exclusive deals on a ton of items your already buying!
Q.: How much does Target Cartwheel cost?
A.: Target Cartwheel is completely free.
Q.: Are Target Cartwheel offers stackable?
A.: Yes. You can stack cartwheel offers with your REDcard discount, a manufacturer coupon, a Target coupon and/or a rebate.
Q.: When do Cartwheel offers come out?
A.: Mostly on Sunday. While you can expect most offers to be released on Sunday morning, there are some that aren't. Expect high value offers to be released at random.

Q.: How do I know if a product has a Cartwheel offer?
A.: You can use your mobile phone to scan any product to see if it has a Target Cartwheel offer. Use the built in scanner to scan any Target bar code to determine if the item you are purchasing has an offer.
Q.: What are Target Cartwheel Badges?
A.: When you sign up for Target Cartwheel you are automatically given 10 offers to redeem per transaction. That's where badges come in. Badges allow you you to redeem more offers per transaction.

Q.: How do I get Target Cartwheel Badges?
A.: You get badges by signing up with Facebook, using the app and interacting with friends. When you connect with Facebook, you can see what's trending, who is using which offers and you can engage with these offers.
Q.: How many times can I use a Cartwheel offer?
A.: You can use offers up to 4 times per transaction and you can use bar codes 6 times a day.
Q.: Can I use Cartwheel during self checkout?
A.: Yes, you can. Ask an attendant to put the bar code in for you and you're all set.