11 Creative Ways To Use Glow Sticks This Halloween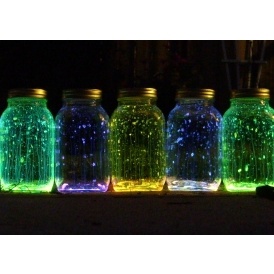 It's that time of year again! The time where we decorate our homes with terrifying, ugly and scary decorations that scare away those little goblins *cough cough* trick-or-treaters.
It's the perfect time to get creative and have some fun with decorating the yard with strange, creepy stuff that I love just love!
One of the most underused decorations we find are surprisingly glow sticks! There are so many creative ways to use glow sticks that most don't know about that are worth giving a go!
We've compiled a list of 11 creative ways to spook up your home this Halloween with the help of glow sticks! They are all pretty easy to make but very effective and are all super cheap too! Check them out...
1. 'Boo Balloons' are totally awesome.
2. Hang creepy creatures from trees.
Take glow sticks and twist them into creepy creatures and hang them from trees. Activate them 1-3 hours before trick or treaters come around so they last the whole night.

3. Grab some glow paint and go to town.
Go to the dollar store and grab candlesticks and cups to paint for your Halloween party. This would be perfect for any flea market finds to decorate your haunted house!

4. Throw some sticks in the cooler for spooky refreshments.
Put glow sticks in zip loc bags and throw them in the cooler for an awesome effect. Great idea for hanging on the stoop this Halloween and letting the kiddos have a refresher, if they dare!

5. Put glow sticks inside 'lost hands'.
Talk about creepy! Put some glow sticks inside surgical gloves and let them float away in your pool or pond for a creepy effect.

6. Make watching eyes out of toilet paper rolls.
Need a last minute option? Grab a few toilet paper rolls and with the kids help cut eyes in them. Then hang them with glow sticks inside for spooky eyes to be on your trick or treaters!

7. Make a creepy stair case with glow sticks.
Make sure you add some water to the liquid you get from inside a glow stick and drizzle it down the stair case for creepy stairs!

8. Make mini glow stick broom sticks invites for you Halloween party.
Glow stick broomsticks are the perfect favor for a Halloween themed party or something cool to drop in trick or treater bags. Cute, fun and creative!
9. Have a turtle fan? Make Ninja Turtles for the front step.
Why use Watermelons on Halloween? Why not! These Ninja Turtle Watermelons are totally awesome and your little TMNT fan will love the result!
10. Make lab jars with cotton balls, spiders and glow sticks.
Cotton balls look like moss, grab some spiders from the dollar store and stick glow sticks in the middle for an awesome Halloween decoration! Cheap and turns out great!
11. Put glow sticks on the ceiling fan for an awesome Halloween party effect.
Looking to spice up your Halloween party with something on the ceiling? Putting glow sticks on the fan is totally awesome and the kids will LOVE the result!