21 Of The Best Kids Costumes Of All Time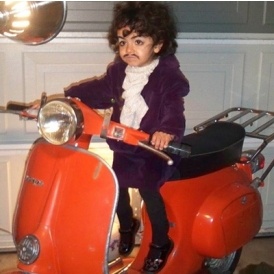 As soon as I see that first leaf fall in September, I pretty much go into full Halloween mode. Having a pumpkin spice every chance I get, starting to think of how I can decorate the house and getting the kids cool, fun and original Halloween costumes they'll love.
Although you may be going with one of the trendy costumes this year like Pokemon or Angry Birds, there are definitely some classic costumes to consider. You really can never go wrong with a classic costume like Prince, Harry Potter or any character from Napoleon Dynamite.
But, if you're looking for a little more inspiration... Grab a pumpkin spice, get the kids to school and checkout this list we've compiled of 21 of the best costumes we've ever seen.
It's important we get these kids looking right, how else will they get 'extra candy' for having the best costume for mommy to eat?!
1. A Chipotle Burrito Baby.
2. Walter White and Jesse Pinkman from "Breaking Bad"
3. The Dude from Big Lebowski
4. Wilson from Castaway
5. Prince from Purple Rain.
6. An adorable version of Thor
7. Little Old Lady.

8. Baby Einstein.
9. Fat Albert and the Cosby Kids
10. Napoleon Dynamite's brother Kip.
11. Baby Hulk Hogan rocks on.
12. Dwight Schrute from The Office
13. Hannibal Lector
14. Edward Scissorhands
15. The Dalai Lama
16. Smurf Kids
17. Run DMC
18. Chief Brody from "Jaws"
19. Jetpack Kid
20. Harry Potter and Fluffy
21. Alex From "A Clockwork Orange"