9 Little Tricks For Finding Cheap Halloween Candy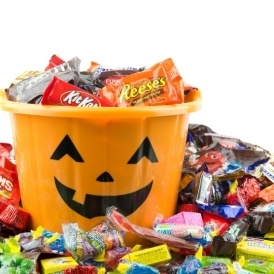 Halloween is coming.
The one day of the year where those pesky little gremlins are allowed to go knockin' door to door trying to score free candy. Who raised those little beggars anyway?!
There's nothing more satisfying as a kid, than coming home on Halloween night with a pillow case full of free candy! It turns out that free candy is actually, not free. And actually, pretty expensive. So expensive in fact, that it's the holiday in which Americans spend the most money!
It's estimated that Americans spend a whopping $6.9 billion on decorations, costumes and yup that delicious candy every year.
But have no fear; if you're one of the people who wants to help lower this epidemic of annual Halloween spending (or you just REALLY like saving money) you're in the right price! We put together a list of the best stores for cheap halloween candy to save you a few bucks.
1. You'll find the best savings at drugstores.
When it comes to finding the best sales and savings with coupons, drugstores like CVS, Walgreens and Rite Aid should be at the top of your list! You'll often find deals just under a quarter for full sized bars of candy and some big savings on variety bags too! Don't forget to stack your coupons with your rewards program points (Extra Bucks, etc).
2. Without coupons your best bets will be Target & Walmart.
Although drug stores win with coupons or rewards, if you're in a pinch and need them right away, go to Walmart or Target as their retail prices are lower than drugstores. And don't forget to use your Target RedCard to save 5%!
3. Buy full-sized candy bars at Costco.
Buying full sized candy bars at Costco will get you the most bang for your buck. Variety packs cost around $0.43 per bar while the one brand candy bar packages will run you just $0.58 per bar.
Worst bang for your buck: Dollar Stores and Big Lots.
4. Head to Target for your snack sized bags.
The best place to grab your snack-sized candy is Target where you'll be spending around $0.06 per candy (Walmart is a close second). Compare that to about $0.10 cents per candy at most other retailers.

Worst bang for your buck: Costco's "Kirkland Signature Chocolate Mini Favorites". These are deceptive, although it looks like your savings a ton by buying them, you'll be paying around $0.08 per snack-sized candy.
5. This is one time you'll wanna skip Big Lots!
Big Lots is the last place you should be shopping for Halloween candy. Most of it is overpriced and the small amount of Halloween candy that is priced low, you probably shouldn't be handing out anyway (you're welcome trick-or-treaters).
6. Stock up on Halloween Candy the day after Halloween.
Sweet Tooth's rejoice! Hey, trick or treaters shouldn't be the only ones that get to enjoy all of that delicious candy. You can find your favorite Halloween Candy the cheapest then, sometimes up to 90% off!
7. You'll also score great deals late-September and very early-October.
When back to school season dies down, the Halloween savings pick up! It's a little known time to score some great Halloween deals. Start stocking up with coupons so you're not paying an arm and a leg last minute.
8. The three numbers most important numbers are...

Quantity or pieces per bag
Discounts/promotions/deals or coupons available
Number of trick-or-treaters you're expecting
9. Don't buy candy that you like (yet)
We're talking to you, Kit Kat-lovers!
This one can be tough, but going for the candy you love will have you buying more, spending more (and eating more). If you plan on treating yo'self, just wait until after the 31st. You'll save a ton of money and feel good knowing you're helping your local Rite Aid clear out their unwanted inventory. Yeah momma, you just saved that Reese's from a life of shelf sadness.