Chip & Joanna Gaines Debuting Hearth & Hand With Magnolia Line in November @ Target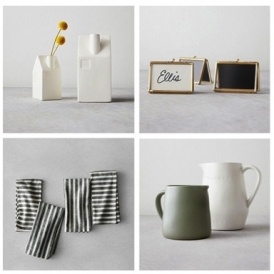 Holy Shiplap!! Well it's official, I think I'm going to have to just start signing our paychecks directly over to Target now. If you haven't heard the big news, Target is about to get a whole bunch better than before (I know, I didn't think it was possible either). They just announced the new Home and Lifestyle Brand by Chip & Joanna Gaines will be hitting their stores in early November!
Hearth & Hand with Magnolia will be the Fixer Upper duo's brand new line that will only be available at Target coming to a store near you on November 5th, 2017.
It's no mystery that American loves this couple and all their amazing designs. If you're not already hooked on the Fixer Upper show, you probably are at least swooning over some of their design and inspired looks on Pinterest. They were actually named People's #1 Thing To Love About America this year too. What can I say, Joanna Gaines is my spirit animal too, so I totally get it.
This is Magnolia's first time working with a retailer to design and create products and Chip and Joanna have been very hands-on and want to make this what every Fixer Upper-aholic would expect from their Magnolia line.
There are more than 300 items for your tabletops, home decor, gifts and more. And it's not just a seasonable collaboration we're talking about here. This partnership is slated for years and will refresh with new items every season.
So if you were digging The Pioneer Women's approach with her line at Walmart that releases new collections every so often, this will be exactly that. But just with Magnolia and all of their rustic, industrial, farmhouse, amazingness! And all right at Target!!! (If my husband thought I spent too much time there before, he may not see me at all come November)!
In Target's statement they said, "The collection reflects a modern take on Magnolia's signature aesthetic with modern, classic, industrial and vintage touches". And just in case you were wondering, most of the items are under $30 too so you don't have to take out a new mortgage on your house to redecorate it either.
Oh and if you needed another reason to love it, here's a cherry on top of this shiplap sundae - By teaming up with Target, Chip & Joanna's Magnolia brand will be giving back more than before by supporting local communicates and families in need.
In her statement, Joanna said, "At the core of the Magnolia brand is the desire to make homes beautiful, but with a focus on family and practicality. We want to create spaces that families want to gather in. We've always dreamed of working with a retailer to create a collection that could reach more people at a more affordable price point. Coming together with Target not only allows us to design beautiful pieces for people all over the country, it also allows us to help communities in a bigger way than we could have ever imagined."
So to kick things off with their first collection release scheduled right before the holidays, Magnolia will be working with Target House at St. Jude Children's Research Hospital to redesign their dining room.
Target House is a free home-away-from-home that provides long-term housing for the St. Jude patients and their families who have to leave their hometown in order to seek treatment for their child. With the strain of having a sick child already, realizing that you'll need to leave your home, work, and school for months just makes it all the more difficult on these families.
Now, right in time for holiday family gatherings, they'll at least have a warm and loving environment to stay in while their child is receiving treatment. Rock on Target House & Magnolia!
So come November 5th, at least y'all will know where to find me from now on. But chances are I'll probably see you there too! ;)