16 Piece Glass Kitchen Storage Set $15.99 @ Oneida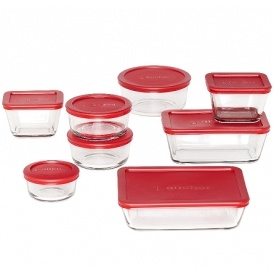 Time to throw your plastic storage set out and go with this oven safe glass storage set. No more unhealthy plastic BPA, stains or hard cleaning and right now they are on sale for just $15.99 when you enter promo code TENT20 at checkout.
My children's doctor told me to throw everything plastic away in my kitchen. He stated the long term health effects of it is not good so thats exactly what Im trying to do and this set just helped me reamp my storage without breaking the bank.
This set comes with 16 pieces from 1-cup through 6 cups plenty of space for veggies or left over dinner with ease. These are microwave, pre-heated oven, refrigerator, freezer, and dishwasher safe.
This set does everything I would ever need it to do. I can cook my food in it and then shove it in the fridge for later plus dishwasher cleanup will make it a breeze.
This set ships for $2.99 but even with the added shipping fee your getting a steal.