62 Piece Rubbermaid TakeAlongs Food Storage Set $13 @ Sams Club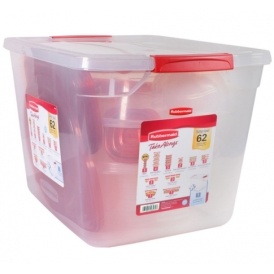 Wow this sale has me completely smiling. I was needing new storage bowls when I ran into this huge 62 piece set by Rubbermaid for only $12.98 this same set goes for $25 at Walmart making a savings of $12!
I absolutely love Rubbermaid they are far better quality then any generic storage containers and is the only brand you will find in my cabinets.
On top of being an exceptional brand this set comes with an awesome 62 pieces! This has absolutely every piece I could ever need including lunch containers perfect for taking to school or work.
Plus cant forget about the huge storage container it has to store all of the pieces down in. This container would be perfect for big family dinners or making that huge pot of taco salad for our family.
Even better it comes with free shipping you cant go wrong with such an incredible price on an incredible set.