Construction Eating Utensil Set $17.50 @ Vat19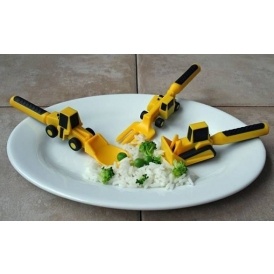 Do you have a picky eater on your hands? Or even a toddler that wont sit down long enough to eat without running from room to room?
We just found the solution to get everyone to sit down to a delighful dinner and priced at only $17.50 you are not going to want to miss this.
Sometimes at my house I wonder if we are eating on just making a food mess. Not anymore with this fun utensil set! Now we all sit down and enjoy our dinner together.
The best part of this whole utensil set is my little one takes the pusher and pushes those veggies right into that spoon and gobbles them down. No more begging for him to eat.
This set comes with all 3 super fun utensils including a fork, spoon and pusher. My little man sits and eats and drives them little construction vehicles right into his mouth.
Shipping varies depending on your location but even with the added shipping charge you cant beat a deal that gets that picky eater eatting again.