Cooks 2-Piece Copper Frying Pan Set Just $17.99 @ JCPenney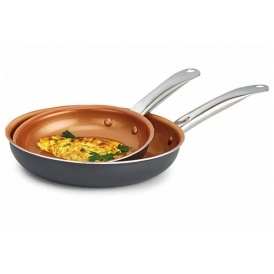 Check it out! Right now at JCPenney you can score these Cooks Copper 2-Piece Frying Pan sets for just $17.99! They're regularly $60 - that's 70% off the regular price!
If you have been wanting to try the copper skillets out to see what all the hype is for, this is definitely the deal to take advantage of to find out!
And if you already know how great these copper skillets are, you also know how pricey they can be!
I love my copper skillets and I was quick to grab up this 2-piece set to add to my collection.
And if you have a camper or lakehouse, these are perfect to keep in your kitchen away from home too!
This set features an 8-inch frying pan and a 10-inch frying pan. Each are completely, totally, 100% Aluminum-free too. (One of the biggest reasons I switched!)
Shipping is free on orders of $99 or more but you can also opt for free in-store pickup instead to save on the shipping if it's available in your area.
My local store had a dozen in stock that were available for same-day pickup even!
But they're selling fast so better to grab yours while you can!
This set is excluded from additional promotions or discounts. But at this price, you don't even need one!