Ozark Trail 3-Piece Cast Iron Skillet Set with Griddle Just $12 @ Walmart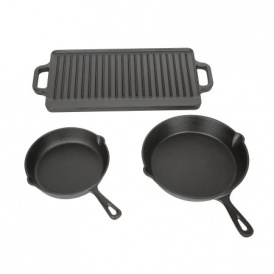 This is a great deal if you're a fan of cast iron! Right now at Walmart they have this Ozark Trail 3-Piece Cast Iron Skillet Set with Griddle priced on sale for just $12 right now! It's regularly over $16!
I love my cast iron! It's so sturdy and great for so many different dishes - searing or frying and more! And it's so durable it will last your for generations!
I love having a set of cookware that can easily transition from the stovetop (even induction cook tops) into the oven too.
I use for just about everything - including baking! (You've never tasted a better cookie than a large cast iron cookie - trust me!)

I just grabbed this set to keep in our camper too. It's perfect because it's not too large and cast iron is also camp fire friendly cookware!
With this set you get 2 skillets pans (a 5-inch and an 8-inch) as well as a Griddle that's reversible.
One one side it's perfect for grilling burgers or making bacon or other meats and the other is a smooth surface that's ideal for pancakes and more.
The griddle has easy grip handles on both sides too so it's totally user friendly.

This set all comes pre-seasoned too so you don't have to do anything special first. It's ready to go!
Shipping is free with an order of $35 or more. Otherwise, just choose free in-store pickup and skip the shipping altogether.