11 Space Saving Baby Products Every Mom Needs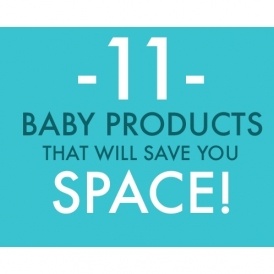 1. Keep strollers off the floor and out of the way with these genius stroller hangers.

2. This 3-in-1 diaper bag goes from diaper bag to changing table, to travel bassinet. Save space and leave the playpen at home! You can get it here.
3. Create a toy bungalow with these stuffed animal hammocks and keep them off the floor.
4. Consider a collapsible jumper that you can store under the couch.
5. This nursery organizer will turn your changing station into a mommy command center.
6. This high chair connects to any regular sized chair and can be easily stored after use.
7. The snap-n-go turns any infant car seat into an insta-stroller. Don't wake the sleeping baby, put this thing in the trunk.
8. This cute little tub folds together in seconds and can be used right in the sink.
10. Install a wall mounted baby changing table for quick changes.
11. Use a small cart for baby supplies for quick access in the nursery.