I don't know about you but I'm always looking for little Sephora secrets that can save me a buck or two.
The cool thing is, there's a bunch of secret Sephora tips most don't know.
Whether you're looking for hidden discounts, or where to find the newest coupons we'll be breaking down all the best Sephora secrets to help you save big!
Make sure you bookmark and share this post to refer to it your next trip to Sephora. Have a tip? Share it in the comments and we'll get it added.
See also: Sephora Sale Calendar: The Complete Sales Guide (2018 Update)
1. Buy Sephora gift cards
There are a bunch of sites, like Raise.com and Giftcardgranny where people sell gift cards they aren't going to use. Most of these sites resell gift cards at prices much lower than retail and can save you a bunch if you're planning a trip to Sephora.
2. Like Sephora on Facebook
While you might think, that's not a secret. The true secret is what you get when you like them on Facebook. Get sweet exclusive deals, coupons and sale dates when you like them on Facebook!
3. Get the student discount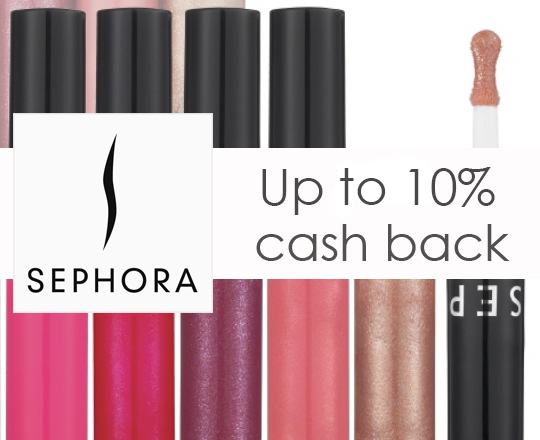 Most don't know about this but there is actually a secret student discount for students who love shopping at Sephora. To start, sheck out StudentRate.com and get 10% cash back on Sephora (and tons of other) purchases! Another easy (and for some secret) way to save.

4. Get 3 free samples with every online order
If you know us, you know we LOVE free samples! Did you know that with every online order at Sephora.com you can score THREE free samples? It's awesome, choose your free samples here. Be sure to also check their weekly Beauty Deals section for any additional freebie offers.
5. Get 3 free samples while shopping in-store
You're allowed a take-home sample of pretty much any product in the store from any department! In fact, you can score 3 samples from each Sephora department. The employees are accustomed to customers asking for samples. No purchase required.
6. Take advantage of price adjustments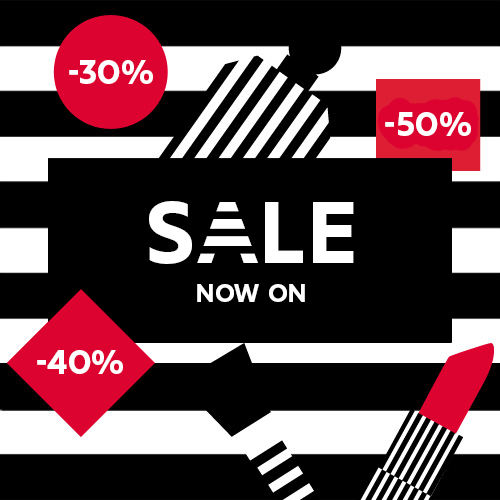 You just bought that lipstick yesterday and today, it went on sale, bummer! Sephora's got your back! Simply visit the store within two weeks and receive a price adjustment. I really think this is good to know, we've all been there, spent more than what you see it for days later, it's such a great way to save a few bucks here and there and it happens more than you think.
7. You'll find better deals lower to the ground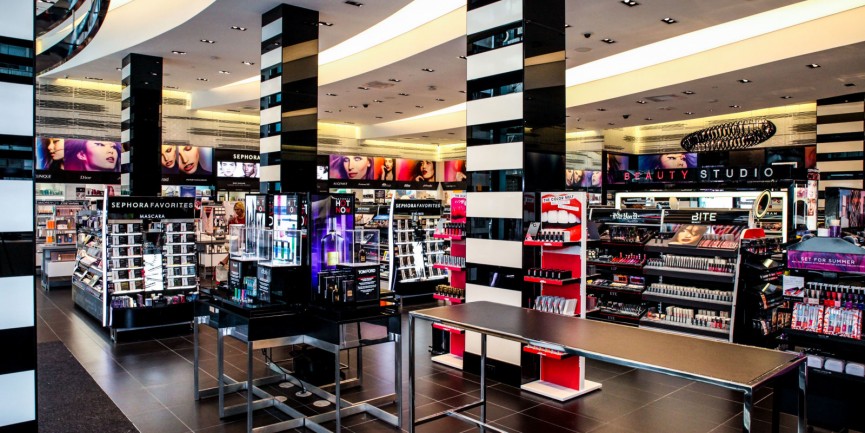 Many stores place the most expensive products at eye level, and Sephora is no different. You'll find better deals lower to the ground and in the corners of the stores so be sure to look all around for those deals, especially towards the bottom of the racks.
8. Use the Ibotta app to EARN money
For those that don't know about Ibotta yet, it's freaking awesome. Sign up, complete some tasks and earn some money. You'll earn $5 just for uploading a picture of your $75 Sephora receipt! (now if I could just earn money for taking pictures of all the receipts in my center console)
9. Check out Sephora's new beauty box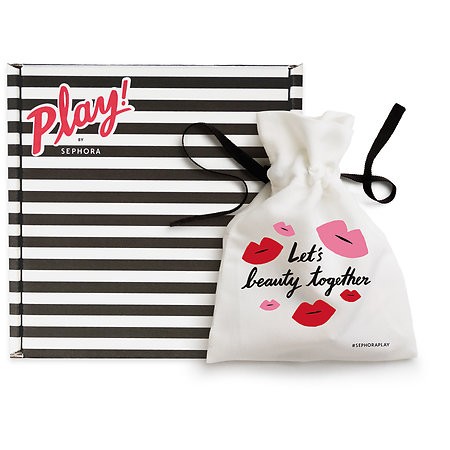 This.
Sephora's highly anticipated monthly beauty box is sure to deliver some awesome trial products, makeup tips, coupons and more, all in an adorable collectible bag for just $10!
10. Sign up for Sephora's Rewards Club
Sephora has a rewards program that offers awesome goodies at different levels. Anyone can be a Beauty Insider which gets you a free gift on your birthday and savings via email! The more you shop, the better your status and those points never expire; so shop, ladies, shop!
11. Get a free gift on your birthday
You should know, get free gift on your birthday when you become a Beauty Insider. Many don't know this so it is kind of a secret, but it's such a neat way to get a freebie once a year.
12. Get a free mini makeover in-store
Get a quick mini makeover at any Sephora store for free! You can even book online. Interested in a new skincare routine? They can do that too!
13. Use free samples instead of travel sizes

Repeat after me: 'I will not fall for adorable little travel sized goodies... I will not fall for adorable little travel sized goodies...' It may seem like a low price compared to the full size, but you're not getting the most bang for your buck. Instead stock up on free samples for when you travel.

14. Value Sets can be a great value
You may want to consider value sets when shopping at Sephora. Sometimes you can score sweet deals on them and you'll get the best bang for your buck.
15. Unlimited two day shipping with Flash
It's free for VIB status or if you don't want to score that it's just 10 bucks. It's a great deal considering that's the cost of getting 2 day shipping on one package.
16. Take advantage of no hassle return policy
A sweet little perk with Sephora return policy is that it's a no hassle return policy. Pretty amazing considering open make-up can't be restocked. No receipt? No problem! Just bring your ID and you'll receive store credit. See the full policy here.
17. Skip the mani & hit the nail studio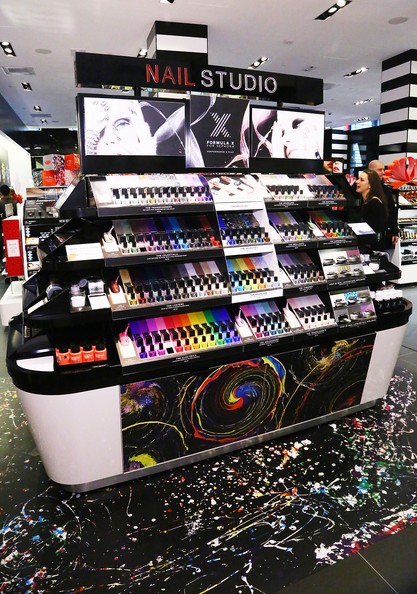 Swing by the Sephora Nail Studio and paint them any shade FOR FREE! You won't be the only one 'trying' that new shade in the aisle, trust us.
18. Don't pass the Beauty Steals end-caps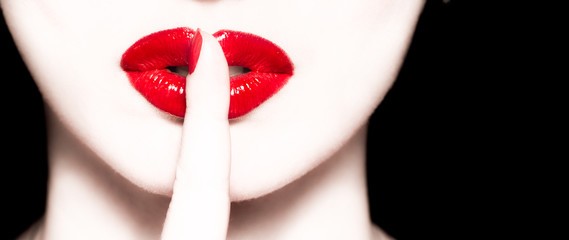 Like the panty section of a VS Semi-Annual Sale, you might need to rummage to find anything good here, but you may find a hidden gem!
19. Perfume samplers are a good value

If you love buying perfume at Sephora, consider going with a sampler to save big! You can snag a sample box for $60-70 if you buy it at the right time AND they come with certificates to redeem for full sized bottles!
20. Take advantage of free beauty classes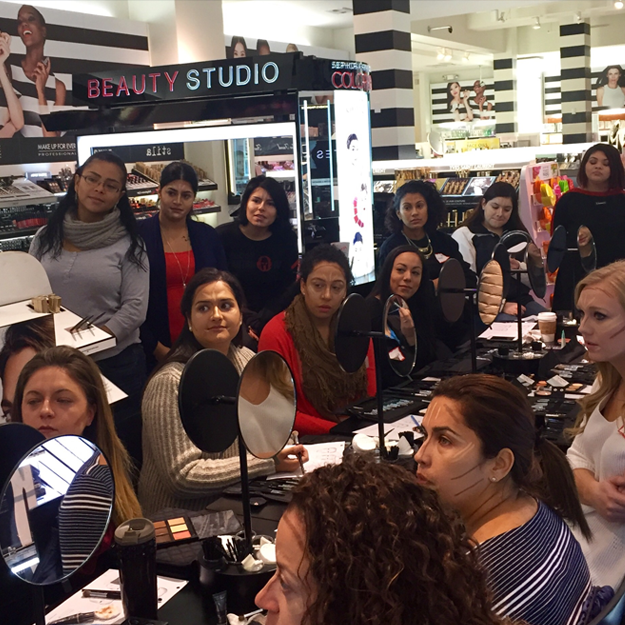 If you've spent an embarrassing amount of time watching makeup tutorials on YouTube, grab your girls and head to one of the many free 2-hour beauty classes offered at Sephora! It's free to sign up and there's no purchase required.