21 Storage Ideas That Will Organize Your Entire House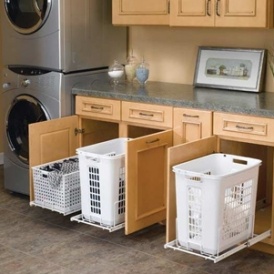 Keeping things organized in my house can seem nearly impossible; it's a never ending cycle of cleaning, playing, cleaning, wearing, cleaning, dirtying, cleaning. That's why we're always on the hunt for any mom hacks that offer up different ways to store things and keep things at least semi-organized. Thanks to sites like Pinterest, there are tons of helpful ideas out there that can greatly lessen the mess (and stress) for you too!
I've spent a bit of time browsing Pinterest (so you don't have to) and have chosen the following 21 storage ideas to help you get more organized before summer gets here so you can spend your free time in the backyard instead of the laundry room.
Warning: Reading this post, will make you spend the next two days wanting to do everything listed below
1. Add these storage bins to your fridge to keep things organized and tidy.
2. Install an appliance lift for easy access straight from the cabinet.
3. Install a dish rack directly above the sink.
4. Use slide out racks to store pots and pans.
5. Or hide them below, stacked neatly within a cabinet with one of these.
6. Don't have much storage space in the bathroom? Use one of these over the faucet shelves to keep things tidy.
7. Also consider installing a skinny shelf to maximize space and storage.
8. Store wraps in a magzine rack.
9. Use a pegboard to maximize storage.
10. Also consider using one in the kids room for toy storage.
11. Use pull out hampers to save space in the laundry room.
12. Save wipe containers, reuse them for plastic bags.
13. False drawers by your sink? Use that space by putting paper towels inside.
14. Have trouble storing legos? This Lego bag is pure genius and will keep them together.
15. 'The Zoo' cage will keep all stuffed animals in one place
16. Use a bottom drawer to store bulky printers when not in use.
17. This vertical organizer will keep all your balls in line.
18. Instead of taking trash bags off the roll, keep them on for easy access.
19. Keep cables in order with this nifty hub.
20. Add another rod to hang towels on.
21. This shoe ottoman is a neat way to store a ton of shoes.