The 10 Best Alternatives To Cable TV in 2017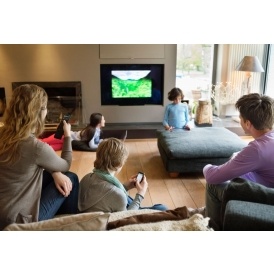 Tired of paying a fortune on Cable TV and looking for a cheaper alternative? You're not the only. People everywhere are starting to wake up and cut the cord to save money on their cable bill.
The cost is outrageous and right now it's an arms race for new companies likes Youtube, Sling and others to bring people over to their platform as a cheaper alternative to cable.
Why pay over $100 a month on your cable bill when you can select the channels you want with these cost effective alternatives to cable. We've done it for 2 years in our house and never looked back. Here's a look at the 9 best alternatives to cable TV:
1. YouTube TV
YouTube TV: Newly released YouTube TV is just $35 a month and has a huge package of all of your favorite channels (40 channles) including ABC, CBS, FOX, NBC and ESPN and more. It also has a DVR which is what makes it stand out from the pack!
2. Hulu
At just $8 Hulu is my favorite app to watch TV. Since we cut the cord, it's pretty much the only app I use because it has all of my favorite shows. Hulu is a great bet if you're looking to cut the cord and need something for you to watch. For me I watch Hulu and the kids/hubby watch YouTube/Youtube TV.

3. Netflix
Although this isn't a direct competitor to cable, it's worth noting and you probably already have a subscription. It's seriously your best option for movies by far. There has been some nice competition between Netflix and Amazon Instant Video, but right now Netflix is still better. We have a Netflix subscription in our house and it's saved me tons from the kids asking to rent movies.
4. Amazon Prime Video
Netflix is like I said, our number one option for movies in our house. But Amazon Prime Video is a great option not just for movies, but for TV shows too. The kids have a ton of shows on Amazon Prime video they love watching and it's included in our Amazon Prime membership which is nice. You can also buy it separate if you're not a Amazon Prime member which is nice.
5. Playstation Vue
Surprising to most, Playstation Vue is one of the best alternatives to cable right now. Playstation Vue has sports, news, must watch shows, a powerful DVR and it's also got no annual contracts. I've been told from a lot of techy friends that it's the best alternative to cable they've used. I was going to go with this over YouTube but the kids are always on YouTube anyway, otherwise I would have went with this.
6. Sling TV
Before hopping over to YouTube TV we used Sling and I have to say I loved it. It feels much more like traditional TV than most of these apps and it has a bunch of channels to choose from including AMC, CNN, ESPN, ESPN 2, HGTV and more! They have different plans too with the lowest plan from $20. Plus they have add on packages for Sports which is nice.
7. Direct TV Now
Direct TV now has gotten really popular over the last year and for good reason. It's $35 a month and you don't need a satellite dish to get all of there great channel offerings. All you need is internet. While right now I wouldn't recommend it to most people, if you need Direct TV for the NFL for example, it's a good bet for you, they'll improve in years to come.
8. Free Over The Air TV
This is pretty much a good option for anyone, that most overlook. You can pick up an old fashioned antenna and pick up local channels over the air for FREE.
Here's how it works: Go to AntennaWeb.org where you enter your address and you can see the channels that are available in your area, also they'll give you the antenna that's best for you. Then buy the antenna and you can get channels over the air for free.
9. Add-On Apps (HBO, Showtime, CBS)
With all of these apps, single channels are starting to make their own apps and offer subscriptions for them. This is good if you loves a bunch of shows on HBO for example, Game Of Thrones, Billions etc. and you want to subscribe to them for a few months. There are a bunch of these:
10. YouTube
By far the most popular thing kids are watching now a days and the best part is it's free. Kids love watching YouTube stars play games, open toys you name it. There are also a bunch of TV shows on YouTube so search around find fun channels for the kids to watch and subscribe to them.
At the end of the day, I've gone from Sling to Youtube and haven't had much complaints. Add on to that we always have Netflix and Amazon Instant Video to fall back on so we're always entertained. Thankfully most of these apps are month to month so try something, if it doesn't work for you and your family change it and try something else. These are all by far cheaper options than cable.