Costco Hacks Every Mom Should Know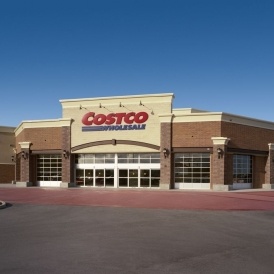 Costco: when you picture it you may imagine aisles upon aisles of gigantic boxes and tubs of mayonnaise you could bathe in. And while that's not all untrue, what you may not know is that there are so many more reasons why you should be a member (and also that, yes, you can buy normal sized stuff too).
1. The Cost of Costco
Costco memberships vary buy level:
Gold Star Membership is $55 per year.
Business Membership is also $55 per year.
Executive Membership is $110 per year.
GOLD STAR MEMBERSHIP - With a Gold Star membership you get an additional household card. This could mean one for your husband but I've also heard of moms share-shopping cards for the big bargain stores (meaning you add a friend as the additional card and they add you on theirs to, say, Sams Club). With Gold Star you are granted access to shop for personal items at their store locations worldwide AND on their website.
BUSINESS MEMBERSHIP - These are available for all licensed business, nonprofits, government agencies, and farmers/ranchers. With an Executive Membership you get all of the above features but also are able to purchase products for personal, business and resale use. You also get the extra household card and can add additional cards to your account for $55 per year. This is ideal for businesses who may want to add employees as a perk or because they assist with the business shopping.
EXECUTIVE MEMBERSHIP - Executive Membership is the highest level of membership at Costco. They say these are available for owners or operators of business (but when we purchased ours there was very little questioning about it, no proof required, and they were more than happy to offer the upgrade so you don't really have to be an executive of anything; Apparently owning and operating our home was simple enough to get us access). Not only do you enjoy all of the above perks but Executive Members also enjoy 2% cash back reward per year (up to $750). Costco issues these checks twice a year which you can use at Costco or simply cash at Costco for money in your wallet to use elsewhere. You also can get lower prices on check printing and even auto financing! Plus you get one year of roadside assistance for vehicles covered through their auto insurance program. Oh and they also offer travel benefits too!
*THE COSTCO CASH CARD* - So this is not technically a membership at all BUT, it grants you access to their store and all of the items in it! This is simply a gift card (which must be purchased by a Costco member) but can be given to anyone and even reloaded and unlimited number of times. So if you know someone who has a Costco Membership they can get you a Costco cash card for $25 or more and POOF! The gates are open! And if you're total is over the $25 on your cash card, you can pay for the difference with Amex (and soon Visa), check or cash.
2. Costco's Guarantee
Costco is all about customer satisfaction. You signed up for the Executive membership but aren't really earning enough back to justify the additional cost? Cancel anytime before your membership year ends and not only will they credit back the additional $55 cost but you'll still get your cash back that you were able to earn up to that point! In fact, any memberships are fully refundable if you're not completely satisfied. So go and do the math on what you spend on your regular items from the grocery store and compare. If you're seeing that for your household the savings isn't substantial enough to justify the membership, no sweat- they'll refund your money. This includes ALL of their memberships as well - even if you've used them for almost the entire year already! So it's absolutely no risk if you feel for any reason like it's not a good fit for you or saving you enough money.
One other convenience of being a member too is trackable purchases so if ever there is a recall on an item you bought you don't have to do anything on your end. Costco will alert you right away and make all the arrangements to replace your item or give you a refund.
They offer satisfaction guarantees on every single product they sell. So if you're not happy with that item, bring it back with no pressure and you'll get every penny back.
3. Ode to Organics

You may also be pleased to find out that Costco is also one of the largest and best distributors of organic goods and produce. They have a HUGE selection of organic items in every aisle and their produce is excellent. They also committed last year to completely phase out antibiotic-treated meat as well, so you know you're getting higher quality and safer foods when you shop there.
4. Planes, Trains & Automobiles

It may be surprising to learn that not only can you get auto loans and vehicle insurance from Costco but not only can you get that, you can get great prices on tires for your car as well. Plus if you're planning a trip, Costco has a huge selection of discount vacation plans for you to choose from including complete packages, rental cars, cruises, all-inclusive resorts, etc. Their have locations and packages in Vegas, Disneyland, Florida, Hawaii, Mexico, Costa Rico, Caribbean, Cook Islands, Fiji, Tahiti, Europe and South Africa & Botswana. In addition to all-inclusive packages they also have guided trips, Lion World Travel, and Theme Parks. Here's an example - I found a complete all-inclusive package for one of their Mexican locations (Cancun) for myself, my husband and our child including 7 night stay, airfare for all three of us and transport for $3,000.00. I checked elsewhere and this resort is listed (as special pricing) for $521 per night (which equals $3,647.00 for JUST the resort cost through these other discount trip sites)!
Most Costco locations also have fuel stations locations right near them for members as well.
So they've literally got you covered in savings, from your cart, to your cars, to your family vacations. Everything you need you can get through Costco savings!
5. Electronics, Home & Health
Costco also has a HUGE selection of electronics from home televisions of all sizes and styles to sound equipment, stereos, etc. As a member you can compare prices on their website to other leading sellers (like say Best Buy) to make sure you're getting the best deal too. We purchased a large screen Smart TV earlier this year for more than a hundred dollars less than anywhere else! Yes, sometimes the savings are that great. Oh and they also carry indoor and outdoor furniture and rugs and just about anything you need for entertaining guests like canopies and coolers and grills, appliances and plants and gardening items. (I spotted a giant 10 person deluxe raft this week when we went at a great price. I could just picture floating on the water with friends this summer in that thing!) I'm telling you, they have everything. You can also get your prescriptions and prescription eyeglasses/lenses at Costco at their fabulous prices too!
6. The Skinny on the DEALS

At the end of the day, this is what it's all about right mom? So here are some tips to take note of for shopping at Costco.
Membership Fee FREE - I mentioned the Costco Cash Card method of shopping above. Granted, this won't grant you the ability to purchase things online or use it toward any vacation packages but if you're looking for a way to get your organics, 21 Day Fix meal ingredients, or just that giant jar of mayonnaise, this is an easy way to do it. They never expire and they're reload able. So throw a few bucks at a friend who is a Costco member and have them load it on to a cash card for you so you can peruse those aisles of savings!
2% Cash Back for Executive Memberships - Even though this membership costs twice the price of standard membership fees, the difference could be more than made up for in your cash back from purchases! If you have big ticket items to buy especially (Think TV's, electronics, furniture, outdoor living/lifestyle items, etc - all of which they have at great prices)! The only thing you can't earn cash back from is: Cigarettes, Alcohol (in Alabama, Georgia, Kentucky, Ohio and Michigan), Gasoline, Stamps, Food-Court purchases, and Costco Cash Cards (But all other gift cards are included). 2% of all of your qualifying purchases are added up and you'll get a Costco check at the end of the year. Most members use this to pay for their membership renewal (many making it free for membership!) but you can use it on anything you like at the warehouse or just cash it at the customer service desk for cash in your pocket.
Food Court - If you're ever in a bind for time to cook or maybe just exhausted from shopping all the goodies at Costco, they also have a pretty awesome food court where you can get pizzas and burgers and sandwiches and other great, quality prepared items. And you can't beat their hot dog and drink for $1.50! (I don't know about you but I swear I can walk in the door after a big trip to the grocery and even though I have all this food, I'm just "too tired to cook". Haha). You can eat in their dine-in food court or get your pizza or other food court foods to go too. And usually when you sign up for a new membership you'll get a coupon good for free food court items (among other freebies in the store) too! Oh and if you're planning a party, you can get sheet cakes there too! (Their half sheet sells for about the price of a quarter sheet from regular grocery stores).
Pricing Hacks -

All regular priced Costco items end in $.99. Anything ending in $.97 indicates a sale price from the regular price of the item.
But anything priced oddly from these (like $0.49, $0.79, etc) means Costco got an even better deal from the manufacturer than elsewhere and indicates you probably won't find it at a better price anywhere else. (So look for these price endings!!!).
Items ending in $.00 or $.88 indicate an overstock and a manager mark down to move the items fast so they are typically also a great deal.
Also any item with an asterisk (*) beside it indicates that it's the last of their stock and the item will not be reordered so it's your last chance to buy it.
Coupon Stacking & Rebates - Costco sends our circulars on a regular basis to their members to showcase their specials and sales and occasionally coupons, you can combine Costco coupons/discounts with discount or cash-back apps (like Ibotta, Checkout51, ReceiptHog, etc).
Satisfaction Guarantee - As mentioned above, every single thing you buy at Costco has a money back satisfaction guarantee - including all memberships! They are ALL ABOUT customer satisfaction. So if 11 months into your 12 month membership you walk in and say it's just not a good fit for you, they'll refund your entire membership cost. And any item you purchase there too - even if it's half or mostly gone! And if you're an Executive Member you'll still get to keep your 2% cash back reward earned up to that point too (so in that sense you may actually MAKE money off of your membership).
Organic & Meat - Costco is meticulous in selecting quality meats and produce. And their savings are fantastic. Organic produce, eggs, and milk are almost always lower than organic selections at other stores. Their meat selection is amazing. I seriously don't know what they could be missing from this huge assortment of in-house butchered meat. Their meat also has a higher grade with the USDA than other locations as well. And with their commitment last year to phasing out of antibiotic treated meat, you can shop with more confidence. And you can pick up some tasty rotisserie chickens and meat at the meat counter if you're in a pinch for time with dinner.
Gift Cards - You can stock up on gift cards for an average of $0.80 on the dollar at Costco. Gift cards for shopping, dining out, movies, all purpose, etc. Most are just $79 for $100 worth of gift cards.
Movie Tickets - If you view movies at Regal or Cinemark Movie theaters then you should be purchasing your movie tickets through Costco where you can get them for just $8.00 (compared to the current $12+ movie ticket cost). So your savings could more than pay for that bucket of popcorn and soda.
Gas - As mentioned above, you can get gas at Costco's filling stations as well usually for at least a few cents per gallon less than other gas stations.
So as you can see, Costco has you covered for everything in life - in your home, out of your home and on your travels, for your health and for your entertainment. If you have other Costco hacks you'd like to share, let us know in the comments!