Teacher Uses LEGOs To Explain Math Concepts To Students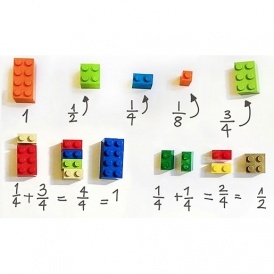 If you're always on the lookout for fun and creative ways to help your children learn new things, you're gonna wanna implement this as soon as you finish reading.

Alycia Zimmerman, a 3rd grade teacher from New York, began to use LEGOs to explain math concepts like addition, fractions and squares in her classroom and the results were amazing.
In the pictures below, you'll see exactly how Alycia uses the classic blocks to introduce new math concepts that are important for logical thinking.
Using Alycia's teaching concepts in your own home is a genius way to improve math skills while having fun with your kids! The pictures below will help you with the basics and get you started.
If you plan on giving this a go tonight, Target is having an amazing sale on LEGO's today too! Head over there to get 30% off LEGO's so you have enough for this fun exercise.
See Also: Free LEGO Replacement Parts: Here's How to Get Them (with Pictures)
Source: designyoutrust

Come back and let us know how it goes below!