Evenflo Recalling 30,000 Car Seats Due to Safety Concerns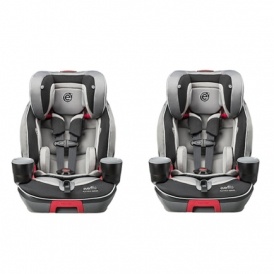 Attention all Evenflo sar seat owners! Evenflo has issued a recall on over 30,000 car seats due to harness safety concerns.
The concerns stem from a problem with the harness that easily allows children to adjust and loosen the safety harness which has resulted in a higher risk for injury during an accident.
Evenflo is being proactive with this recall as there were several complaints about children adjusting the harness over the past few months, however there has been no reported injuries.
The model affected by this recall is the Evolve 3-in-1 Combo Booster Seat models and the model #s are 34411700 and 34411741.
If you have one of these models, register here on the Evenflo website will they will notify you about replacement kits or a possible recall. Click here to enter your model # if you're unsure if about if this recall affect you.
You can also call 1-800-233-5921 in the United States, 1-800-265-0749 in Canada to get a replacement as well. Also beginning September 26, Evenflo will notify registered owners and provide a remedy kit with a replacement harness adjustment button at no cost.