Graco Turbobooster Car Seat Recall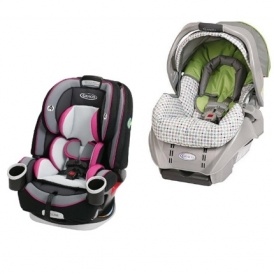 Attention parents with a Graco TurboBooster Car Seat!
Graco has just recalled their Graco TurboBooster because of a lack of safety information in the manual. Graco is recalling TurboBooster booster seats manufactured between 12/22/15 and 4/5/16 with the following numbers: 1963973, 1963974, 1963975, 1963976, 1967886, and 1975173.
They have issued the following statement with regard to this recall:
"Graco discovered an omission in the owner's instruction manual included with select Graco Highback and Backless TurboBooster car seats manufactured between December 22, 2015 through April 5, 2016. The owner's instruction manual omitted the consumer directive to secure the booster seat (when not in use) to the vehicle seat using the vehicle seat belt to prevent the car seat from striking other occupants in the event of a crash. Although the information does not affect the overall dynamic performance of the TurboBooster car seat if used according to the instructions, this information is required by the National Highway Traffic Safety Administration (NHTSA) FMVSS-213 standard. To comply with this requirement, Graco is recalling the manuals included with the affected TurboBooster car seats."
Booster Seats Affected:
| TurboBooster Model Numbers | // Manufacture Date Range |
| --- | --- |
| 1963973 | 3/8/2016 to 4/2/2016 |
| 1963974 | 12/22/2015 to 3/30/2016 |
| 1963975 | 12/22/2015 to 3/17/2016 |
| 1963976 | 2/17/2016 to 3/24/2016 |
| 1967886 | 1/13/2016 to 4/5/2016 |
| 1975173 | 3/29/2016 |
The concern is that in the event of a vehicle crash an unoccupied and unsecured seat may strike other occupants in the vehicle and could cause injury.
If your TurboBooster seat is affected by this recall you can continue to use the TurboBooster seat without concern. Just be sure to secure the booster seat to the vehicle seat when it's not in use.

The recall is expected to begin around June 10, 2016.

Graco will be notifying registered owners of these seats and will provide them with the missing printed instructions free of charge.
Non-registered owners can obtain the missing printed instructions by contacting Graco.
So fortunately this means that there is no apparent safety issue with the seats themselves but just wording in the accompanying manuals. However, if you happen to have one on of these seats and do not hear from Graco next month, please contact Graco so you can obtain the missing information.
You can contact Graco by phone at 1 (800) 345-4109 or visit their website at www.gracobaby.com.
To check if your car seat is one of the seats included in this recall you can check your seat model name and manufacture date by looking at the bottom of the seat to locate the white label which will have the Model Number and Date of Manufacture on it.