Ikea Recalls 29 Million Dressers After 6 Fatal Accidents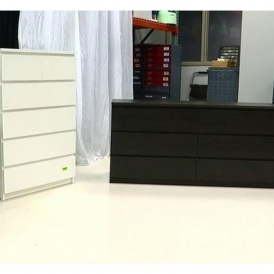 Almost as soon as they can stand, kids start to climb. They'll climb all over you, the stairs, the couch, out of the crib; no matter how many times you tell them to 'stop climbing on the furniture' the truth of the matter is, kids love to climb!
Exploring is natural, but if your furniture isn't properly secured, it can also be very dangerous. Recent tragic events involving toppling furniture have prompted IKEA to issue a voluntary recall of over 29 million MALM series dressers and chests as they 'are inherently very dangerous and unstable products if children are around them'.

The news comes after reports of six children, all under the age of 4, crushed to death by the Ikea dressers dating back to 1989 and one as recent as February.
Ikea will be issuing a refund or repair kit to all affected MALM dressers and chests. Dressers and chests that were purchased between 2002 and 2016 will allow customers a full refund, and anything before 2002 will get a partial store credit. The recall affects chests and dressers that are taller than 23.5 inches and adult chests and dressers taller than 29.5 inches.
If you have furniture that is affected by the recall, you can call the company and they will send a team to install a wall anchor to prevent toppling furniture. If you do have one of these dressers, it is best to store the dresser so kids cannot access it in the meantime.
And this really applies to any piece of furniture, and certainly any TV since televisions appear to be causing the most injuries and deaths. If a child is killed by improperly secured furniture every two weeks, anchor kits should be required to be included with dresser and television purchases. Safety should be a big selling factor for televisions and safety campaign posters like the one above should be prominently placed in stores selling furniture and appliances that pose a danger to kids.

There are so many people who are commenting that this is a parenting fail, not the problem of the businesses that sell furniture or appliances. Can we get past that and realize that something that causes this much death and injury to children is not a "freak" accident or something that happens because of bad parenting. Parents need information.
Kudos to IKEA for getting the information out there, and for a voluntary recall that is terrible PR for them, but will hopefully spread awareness about just how unsafe it is to have unsecured furniture and appliances around kids.