Never Miss Any Of Our Deals With Telegram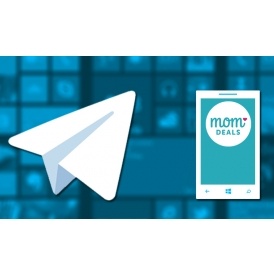 Would you like to never miss any of our deals and be the first to see them before anyone else? It's now possible thanks to a new App called Telegram.
In just 2 minutes you can get notifications and alerts of all of our deals instantly on your phone or tablet and never miss a deal!
Telegram is a messaging app like Whatsapp, but much better because it lets us share the best deals with you in seconds in our own private channel.
Our new Mom Deals channel on Telegram is getting extremely popular because if you follow our channel you'll get all of our best deals instantly and have first dibs on the deals before they sell out. plus you'll never miss an amazing deal again!
1. Download Telegram
To start you have to download Telegram, the app is available on all platforms, and you can do it from their website or from the following links:
3. Telegram for PC / MAC (Desktop Version)
2. Create your Telegram account

Once you have Telegram installed, open the app and enter your phone number. Then you will get a message with a verification code and then you will create your Telegram account. It's really very simple.
3. Join the Mom Deals Telegram channel
Join our channel on Telegram. You can either search 'Mom Deals' (in the chats search not the contacts search) inside the app or click here to join the Mom Deals channel and click on Join to save and activate notifications.