Sierra Nevada Brewing Co. Issues Major Beer Recall Affecting 36 States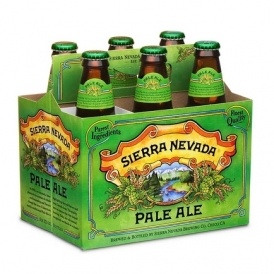 Here's a recall that may affect your Big Game plans. The Sierra Nevada Brewing Co. announced that they are recalling eight different types of their beers in 36 states across the country.
This voluntary recall came as the result of concerns over some of the bottles possibility having a flaw that could cause glass to chip or break off and fall into the bottle. So far they say there have been no injuries reported so this precautionary recall is in hopes to avoid any from happening. In the company's statement they said,

"While we believe this concern impacts roughly 1 in every 10,000 (0.01%) of our bottles packaged during this time, Sierra Nevada has set the standard for quality in the craft brewing industry since 1980 and we have decided to take this precaution to ensure the safety of our consumers".
The affected brews include the 12-Ounce bottles of Sierra Nevada's Pale Ale that were produced between December 5th, 2016 to January 8th, 2017. Seven other Sierra Nevada beers that were produced during a broader time range have also been recalled. These seven other beers include 12-ounce bottles of:
Torpedo Extra IPA
Tropical Torpedo
Sidecar Orange Pale Ale
Beer Camp Golden IPA
Otra Vez
Nooner
Hop Hunter IPA
These beers, if they were produced between December 5, 2016 to January 13, 2017, should not be consumed!

The beers affected that are being recalled all come from the company's Mills River, NC brewery. Beers produced from Sierra Nevada's other brewery (located in Chico, CA) are not being recalled.
If you have purchased this brand of beer, you can find the date and location of production for your beer on the packages as shown in the image below.
If you purchased your beer in a multi-quantity pack/case you can find the pertinent production info here: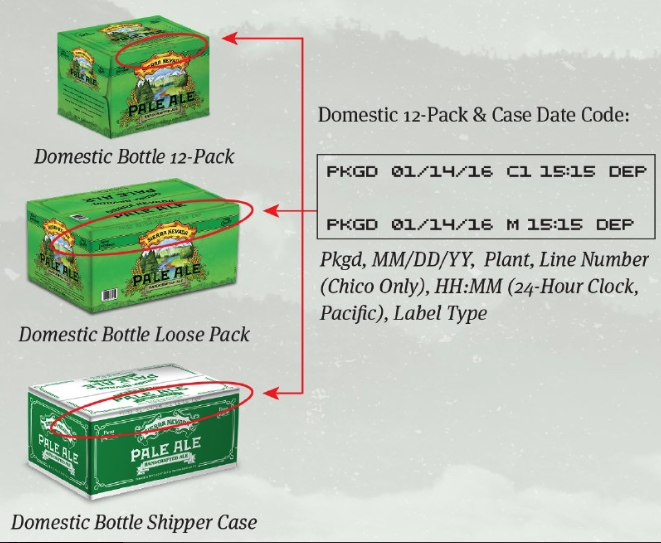 If you purchased individual bottles or "create your own pack" cartons, you can find the relevant production info here: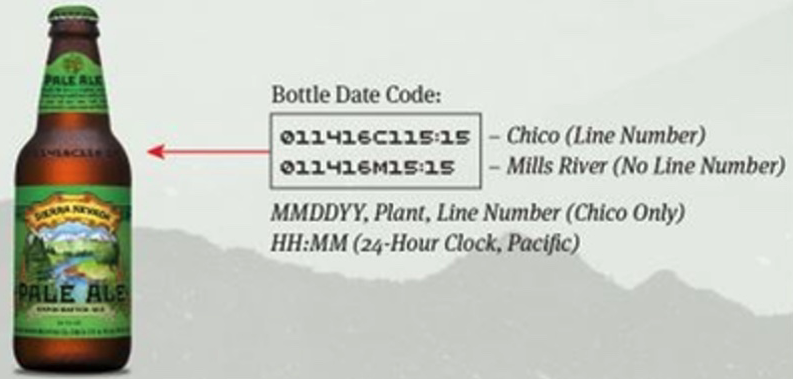 The 36 states affected by this voluntary recall include:
Alaska
Arkansas
Connecticut
Delaware
Florida
Georgia
Iowa
Illinois
Indiana
Kansas
Kentucky
Louisiana
Maine
Maryland
Michigan
Minnesota
Montana
Mississippi
North Carolina
New Hampshire
New Jersey
Ohio
Oklahoma
Pennsylvania
Rhode Isand
South Carolina
South Dakota
Tennessee
Texas
Virginia
Vermont
Wisconsin
West Virginia
Washington, D.C.

Consumers who have any beer that fits the recall labels and production dates can visit the Sierra Nevada website to request a full refund. Their website is located at: http://www.cdn.sierranevada.com/ and their Online Contact Form is located here.
So be sure to check your brews - especially if you stocked up on this popular brand for the big game!