Target Launching New Rewards Program Called Cartwheel Perks, Here's What You Need To Know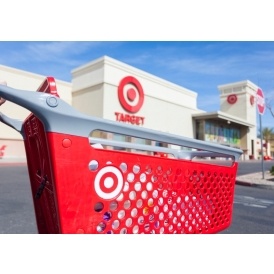 Since it's launch, Target's Cartwheel app has been at the top of our list of favorite money saving apps used by moms. Currently the app has 27 million users and has saved users a whopping $600 million so far on purchases.
When it comes to getting coupons on things we're already buying, Cartwheel is the best. Now, the company is ready to introduce a new Rewards program, they've dubbed Cartwheel Perks.
Cartwheel Perks will be added to the app for 126 stores in St. Louis, Denver, Houston and San Diego that let's users redeem points for items they buy through Cartwheel and claim a reward once they hit the threshold.
With Cartwheel Perks users will earn 10 points for every dollar spent and once users accumulate 5,000 points they'll be able to unlock a reward and choose from over 25 unspecified rewards.
Most believe the new program will be similar to a previous rewards program run by Target called REDperks, which allowed users to score a 5% off coupon after getting 5,000 points. The only difference here is instead of offering a discount on a future purchase shoppers will instead be able to score a free item of their choice.
At this point, we have no definitive timeline of when Cartwheel Perks will be available nationwide, but as soon as we find out you'll be the first to know. Meanwhile if you're in St. Louis, Denver, Houston or San Diego keep your eye out and your app updated for the latest Target Rewards program!