ULTA Being Sued For Reselling Used Makeup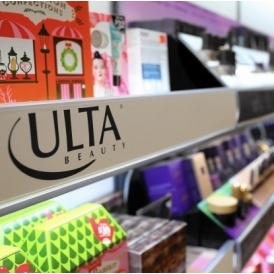 Oh mommas, this was a story that we shuddered at hearing. And while it's one that we definitely hope isn't true, we of course had to share with you!
Two women have filed lawsuits against the U.S. beauty giant, ULTA.
In each separate (yet incredibly similar) lawsuit the women allege that the retailer actually repackages and resells beauty products that have been returned by consumers after purchase.
What's even more troubling is that they state that even includes products that have been opened and used!
In this lawsuit complaint filed in the Cook County Circuit Court in Illinois by Meghan Devries, it states that ULTA has a routine practice of repackaging and resealing products that have been previously purchased, used and then returned by customers.
Among the supporting arguments, the complaint says that ULTA has a limit on how many returned items can be thrown away.
So it is apparently normal practice for them to return previously purchased and even used products back to the shelves to be purchased by other unsuspecting customers! (Eww!)
"Managers at [Ulta] retail stores are given a quota as to the number of returned items that can be deemed to be 'damaged,'" the lawsuit alleges.
The lawsuit claims that if returned items "look good enough to resell" they are returned to the shelves so they don't exceed their quota of tossed products.
Even worse, the suit states that these products are placed back on the shelves without being labeled as "repackaged" or "previously used"!
So in other words, the new purchaser may not have any idea that their product has been previously purchased and maybe even used by another costumer before them!
While this is something you definitely hope isn't true, the complaint also has supporting proof from former ULTA employees.
Several employees (both current and former) have come forward in support of these allegations on social media.
One former employee took to Twitter about ULTA's practice of instructing employees to repackage products and return them to the shelves for resale.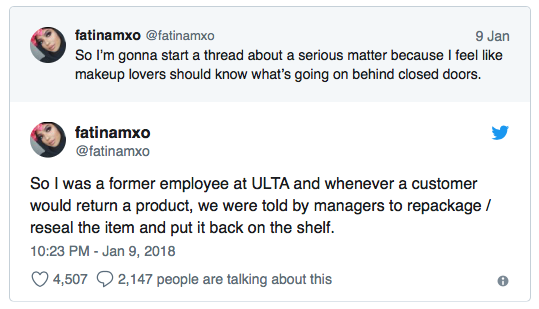 In one series of tweets by a woman who says she's a former Ulta employee, she claims that:
"whenever a customer would return a product, we were told by managers to repackage/reseal the item and put it back on the shelf."
And she even goes into further detail to show the Twitter-verse just how some of these items were "cleaned up" to be placed back on the shelves for resale!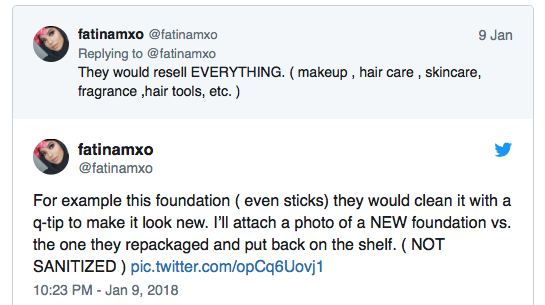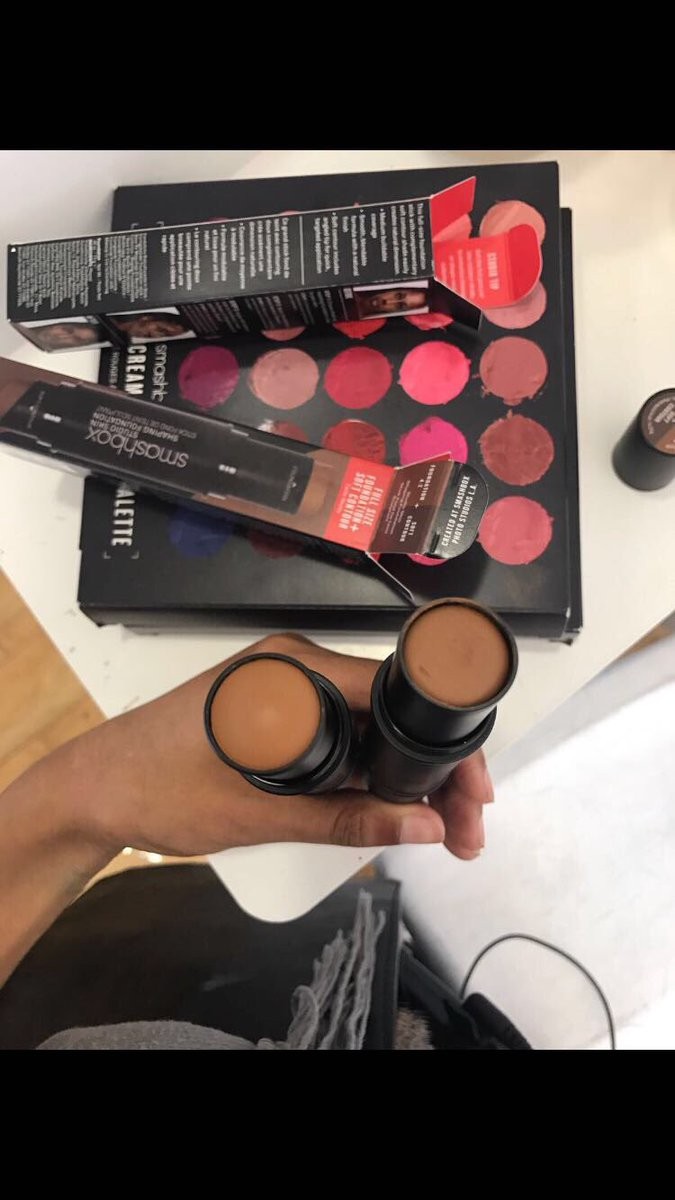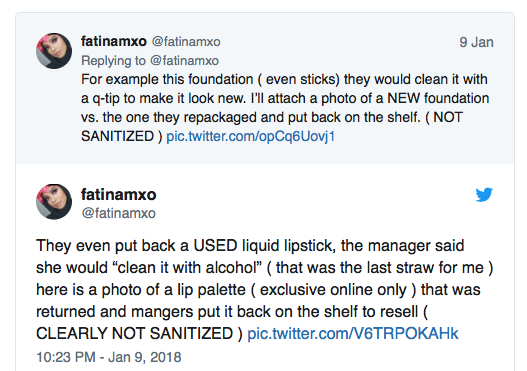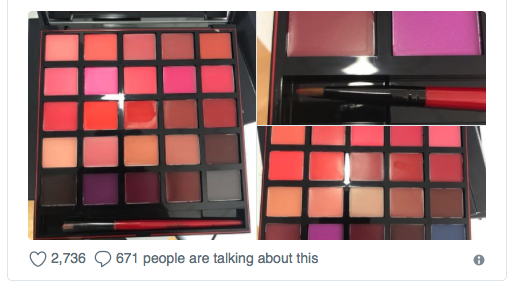 Oh boy. That certainly doesn't look very good!
ULTA-mately Devries is hoping that her lawsuit will expose this practice and result in Ulta making changes to this practice and the number of items that can be thrown away.
Incidentally it also seeks compensation for any and all customers who may have purchased used cosmetics as a result of this highly unsanitary practice.
(So stay tuned mommas - there may be a class action that you'll need to sign on to later as this case develops)!
A totally separate lawsuit was filed against ULTA Beauty, Inc. last month by a California woman alleging the very same claims as this one. In part, the lawsuit states:
"Every customer who has purchased cosmetics at Ulta since this practice began was put at risk of unwittingly purchasing used, unsanitary cosmetics and this risk reduces the desirability and value of all cosmetics sold by Ulta,"
This complaint also sited the former ULTA employee @fantinamxo's Twitter post allegations, stating that her Tweets have prompted a number of other current and former ULTA employees from across the country to speak up and confirm the very same practices at the retail locations where they worked.

ULTA's Response: We Do Not Allow The Resale Of Any Used Products

So you may be wondering, what does Ulta have to say for themselves after allegations like these?
Well unsurprisingly ULTA has denied the claims made in both of the lawsuits as well as on Twitter by the alleged former and current employees, stating that they take the integrity of their products very seriously.

In her statement, ULTA Spokesperson, Karen May said:
"Ulta Beauty's policies and practices do not allow the resale of used, damaged or expired products. As the nation's largest beauty retailers, we take protecting the integrity of the products we sell very seriously. Based on our review of these allegations, we are confident that our stores uphold our policies and practices. Assertions to the contrary are inconsistent with what we stand for".
And it's no big surprise that Ulta stock shares dropped after the news of the lawsuit was revealed to the public and its investors.
So we'll have to stay tuned and see what actually comes of these pretty hefty allegations.
In a time where social media can make or break a company, it seems that you definitely don't want to be on the receiving end of some allegations like this.
See Also: ULTA Sale Calendar 2018
Make Sure Your ULTA Makeup is Safe!
While we hope that this isn't a practice at all of their locations and perhaps just a few managers making bad judgment calls, I think it goes without saying that if you purchase any cosmetics from ULTA, be sure that you check very closely at the packaging as well as the product itself!
If there are any signs at all that your product may have been previously opened or used in any way, you should return it immediately.
Given these current allegation pending before the court, I don't think any Ulta manager will give you grief about bringing any questionable beauty products back.
But just for good measure you should probably also give their corporate customer service center a call or email too before returning any product to the store.
By Phone: You can reach their customer service by phone 7 days a week from 7Am to 11PM CST at: 1-866-983-8582
By Email: Or you can shoot them an email right on their website.
By Mail: Or you can also send them a good old fashioned letter too. Their address is:
1000 Remington Blvd.,Ste 120
I'm quite certain they'll be more than happy to make it right and perhaps even throw some freebies or coupons your way too. ;)