Urgent Recall On Selected Claire's Cosmetics Sets After Found To Contain Asbestos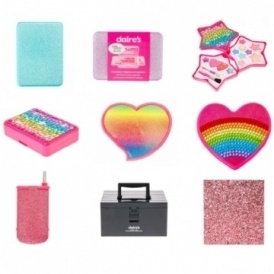 Attention parents! Claire's has issued an urgent recall on nine of their popular cosmetic sets after it was discovered that one of the kits contained very harmful, cancer-causing asbestos fibers!
This incident occurred with cosmetics sets sold in their US stores so any parents who may have purchased or received any of these sets for their children should immediately discontinue using it and remove it from your home right away!
The following Cosmetic Sets are the ones that have been recalled:
Metallic Hot Pink Glitter 48-Piece Makeup Set (Product #76094)

Ultimate Mega Make Up Set (Product #71844)

Pink Glitter Cellphone Makeup Compact (Product #26556)

Bedazzled Rainbow Heart Makeup Set (Product #11767)

Rainbow Bedazzled Star Make Up Set (Product #20926)

Rainbow Glitter Heart Shaped Makeup Set (Product #97275)

Mint Glitter Make Up Set (Product #74769)

Rainbow Bedazzled Rectangle Make Up Set (Product #21044)

Pink Glitter Palette with Eyeshadow & Lip Gloss (Product #97276)
If by chance your child has one of these recalled sets, DO NOT USE IT under any circumstance. The inhalation of asbestos can lead to life-threatening illnesses including certain cancers!
You can return your recalled items to any Claire's store near you and you will receive a full refund. If you have any questions or want to get further information you can view more details on Claire's website or by reaching out to the Claire's hotline which is open from 8 a.m. to 11 p.m. EDT at: 800-804-7194
This is just so scary being right after the holidays when items like this are such popular stocking stuffers and gifts for children. Please help us spread the word by sharing this info!