Ozark Trail 22 Piece Camping Combo Set $99 @ Walmart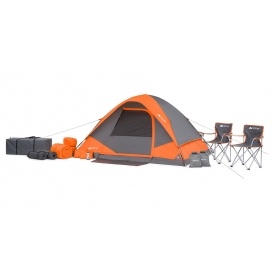 Wow what a deal this has absolutely everything you need in one package to get you on your favorite camping trip in a hurry. No need to pack anything additional and priced at only $99 your wallet wont be screaming.
I love camping but hate when I forget something essential. Now with this nifty set everything is packed in one bag and I wont forget anything that were going to absolutely need. Now planning time can be less and enjoyment time can be more.
This set comes with a large 4-person tent, gear loft, 8 tent stakes, 2 sleeping bags, 2 pillows, 2 foam sleeping pads, 2 chairs, 2 dry bags, lantern, and a carry-all bag.
Not only would this be great for camping for yourself but what an awesome Mothers or Fathers Day present idea. Give them this set or take them out for a trip that will be enjoyable and memorable.
This awesome find ships free or you can choose free in-store pickup. You cant go wrong with this set.