Updated: 13 July 2016 03:21
Amazon Prime Day 2016 Wrap Up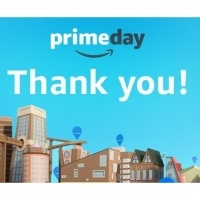 That's it folks - Prime Day has officially ended! Another successful event in the books. Thanks so much for spending it with us! We hope you had as much fun as we did and cashed in on some great deals!
So let us know:
Did you score big this year?
What was your favorite item bought?
What was your best deal?
And what's the craziest thing you bought that you didn't even need (or know you needed) but just had to because it was priced so low? Don't worry we won't judge.
A big congrats again to all of our winners randomly drawn throughout the day! Enjoy those gift cards! And for the complete list of winners, click here.
Be sure to stay in touch and continue to check out MomDeals for all the best deals on Prime Day and EVERY day!