Chicken Parmesan Sliders Recipe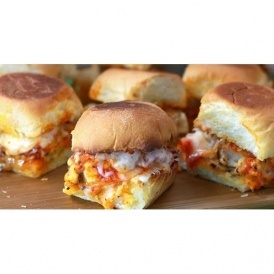 Looking for a delicious and easy new recipe to add to your arsenal? Then you NEED to try these Chicken Parmesan Sliders!
Slices of pan fried chicken covered in marinara sauce and piles of mozzarella cheese are served on garlic butter toasted dinner rolls for a fresh take on a classic favorite. It is a simple recipe that is absolutely heavenly and party ready!

The following ingredients will make a dinner to serve 16...
4 chicken patties (or you can use 3 chicken breasts)
1 cup marinara
1 cup mozarella cheese
1 tablespoon italian seasoning
1/2 cup crumbled bacon
3/4 cup melted butter
1 tablespoon garlic
1 tablespoon parsley
1 package of dinner rolls
Check out this video to get your taste buds excited!