Five Easy Slow Cooker Appetizer Recipes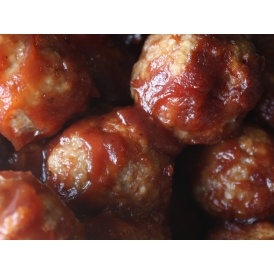 Any slow cooker fans out there? It's pretty much my favorite way to cook delicious and easy meals without spending hours in the kitchen.
If you're on the hunt for delicious appetizer recipes, we've rounded up our favs to get your year off to a delicious start!
Don't have a slow cooker? Grab one here! If you're looking to serve one of the recipes below during a party having a mini crockpot is your best bet!
BBQ Pulled Pork Sliders

Ingredients

4 lbs Boneless Pork Shoulder
1 Onion, Sliced in Rings
2 Cups of Ketchup
1/2 Cup Warm Water
1/4 Cup Apple Cider

Vinegar

1/4 cup brown sugar
1 Teaspoon Worcestershire Sauce
1 Teaspoon

Tabasco

Sauce
1/2 Teaspoon Kosher Salt
Method
Trim the mean and place it into your crockpot and add onion.
Mix 2 cups of ketchup + half cup warm water.
Pour the mix into the crockpot.
Add vinegar, brown sugar, Worcestershire and salt.
Cook and cover on low for 10 hours or until meat shreds easily with a fork. Serve over rice or on bread.
Ingredients

1 1/2 Cups Diced Cooked Chicken
2 Cups Blue Cheese Dressing
1/4-1/2 Cups Tabasco Sauce
1 1/2 Cups Shredded Cheddar Cheese
Method
Put everything into crockpot.
Stir.
Cook on high 1-2 hours or until cheese is completely melted. Be careful not to overcook. Grab a mini crockpot for easy serving.
Turkey Meatballs & Cranberry BBQ Sauce
Ingredients

1 lb Turkey Meatballs
1/2 Cup Barbecue Sauce
1 Can (16oz) Jellied Cranberry Sauce
1 t Soy Sauce
Method
Cut cranberry sauce into slices.
Place into bottom of stoneware insert.
Add barbecue sauce and soy sauce.
Top with cooked meatballs.
Cook on low for 4-6 hours or on high for 2-4.
Spinach and Artichoke Dip

Ingredients

2 [14 ounce] Cans of Artichoke Hearts (drain & chop)
1 [10 ounce] Frozen Spinach Pack (thaw and squeeze dry)
8 Ounces of Sour Cream
1 Onion (diced)
2 Cloves Garlic (crushed)
3/4 Cup of Grated Parmesan Cheese
3/4 Cup of Milk
1/2 Cup of Crumbled Feta Cheese
1/3 Cup of Mayonnaise
1 Tablespoon Red Wine Vinegar
1/4 Teaspoon Black Pepper
8 Ounces Cream Cheese (cubed)
Method
Put everything but cream cheese in crock pot and stir until well combined.
Once stirred well, top with cream cheese.
Cover and cook on low for 2 hours.
Uncover and stir until cream cheese is well combined. Cover and cook on high for 15 more minutes.
Grab a mini crockpot for easy serving.
Bacon Cheesy Onion Dip

Ingredients
1 8oz Philadelphia Cream Cheese (softened)
¾ Cup Sour Cream
1 Packet Lipton Dry Onion Soup Mix
1 Cup Shredded Sharp Cheddar Cheese
10 Pieces Bacon (cooked cripy then chopped)
Method
Combine all ingredients in bowl and stir.
Put entire bowl in crockpot.
Cook on low for 1-1.5 hours until done (stir occasionally)
Serve with Pita Chips or Potato Chips
Grab a mini crockpot for easy serving.