Valentine Heart-Shaped Cinnamon Rolls How-To (With Pictures)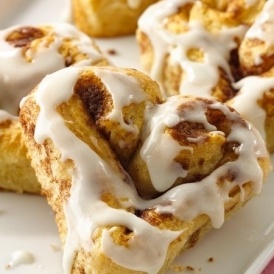 Looking for the best breakfast to serve up for the family on Valentine's Day?
You've got to try these Valentine Heart-Shaped Cinnamon Rolls!
These are a favorite in our house and once you try them for yourself you'll agree they're super easy to make.
You don't have to spend a lot of time whipping up a homemade batch of yeast dough or anything for these either.
With just a can of cinnamon rolls and a little creative touch, these sweetheart cinnamon rolls will be a hit for sure!
(And they'll definitely be deserving of some photos for your social feeds too)!
These are a great treat for the family but also if you like to bring in a little something to the office crew now and then - they go nuts for them!
And hey, I'm all for a fancy looking recipe that actually takes little to no time and no real pre-planning or long prep work, aren't you?
So Here's What You'll Need:
Canned Cinnamon Rolls (Any brand but get the kind with the icing tub in there)
9-Inch Round Baking Pan (Or any Baking Sheet will work)
I always use the Pillsbury Cinnabon Cinnamon Rolls with Icing but any other name or store brand will work. Just check their baking instructions for variations of the baking temp and cook time to be safe.
And if you can't find one that has the tub of icing inside, you can just grab a can of ready-made cream cheese frosting in a tub from the baking aisle.
Heart-Shaped Cinnamon Rolls
Step 1: Preheat your oven to 350-degrees and grease/spray a 9-inch round cooking pan.
Step 2: Carefully separate the rolls in the package and unwind each long roll but leave the centermost end coiled (that's going to be your guide for the other side)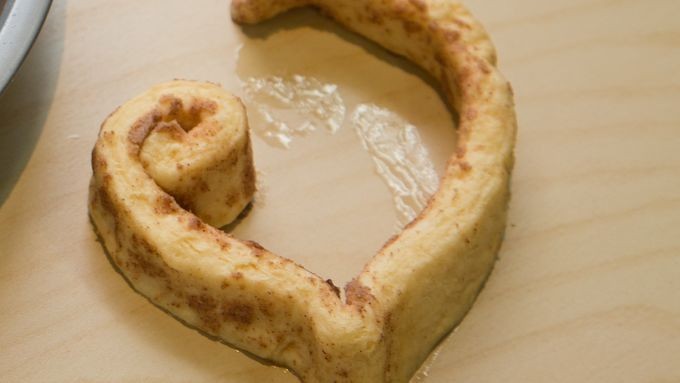 Step 3: Coil the unrolled end of each strip toward the center so that it looks similar to the coiled side to make two equal coils side-by-side.
Step 4: Pull the middle of the strip down to make a point and pinch the point to form a heart shape.
Step 5: Place each roll in your baking pan with points toward the center.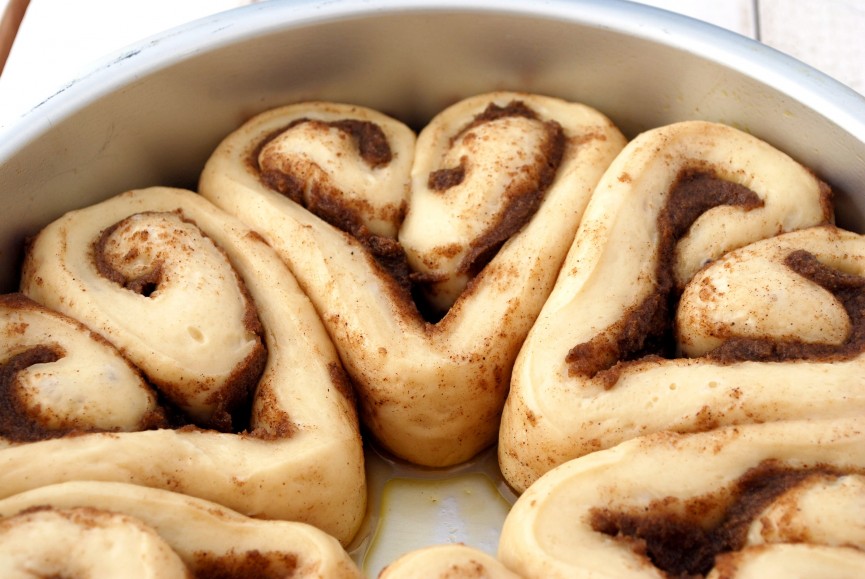 Step 6: Bake for 13-15 minutes or until they are a nice golden-brown. Then cool them for about 5 minutes.
Step 7: Spread your frosting over top of the warm rolls.
Then enjoy! (And if your kids are like mine that probably means they'll be scarfed down and asking for seconds)...so you may want to make a couple batches!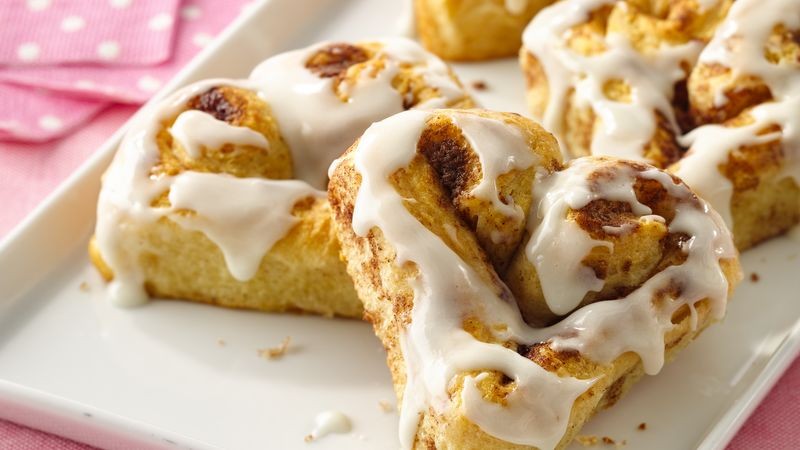 Other Delicious Tweaks
There are plenty of tweaks you can make here to make this recipe even more perfect for your family.
You could always use a different flavored cinnamon roll - like chocolate or orange.
You could also add in some colorful sprinkles or candies to make them even more festive.
Or if you have a little more time and want to get fancy, you could certainly whip up a batch of frosting yourself with some powdered sugar, milk and cream cheese.

Either way, this recipe is definitely one you should try.
They're also a great treat for Sweetest Day, birthdays, and more.

So just pin this page to your favorite recipes board and you'll always have it handy when you want to whip them up!
Did you try it? Let us know how you and your family liked these Heart-Shaped Cinnamon Rolls and if you'll be making them again in the future!