Fingerlings Monkey Predicted To Be This Years Hot Christmas Toy $15 @ Toys R Us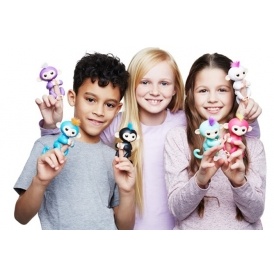 Now is the time to go Christmas shopping for the hottest toys of the 2017 season before they sell out. This fingerlings monkey is predicted to be the hot toy this season and is already starting to be bought up and marked up by sellers for profit.
Don't be caught up in the 2016 drama of the hatchimal as it was so hard to get your hands on. This little guy is predicted to be the very same way and right now you can snag one up for just $14.99!
Plus in case this Fingerling sells out we have you covered with the links below.
This little monkey is totally cool! He is interactive and responds to sound, motion, and touch with blinking eyes, head turns, and silly monkey babble. He loves to hold on to your finger or his very own play set plus when you blow him a kiss he will blow one back!
Hang them upside-down by the tail and watch them monkey around. Then after a long day pet him to sleep or make a loud noise and watch them get excited for more fun.
Depending on which retailer you choose to buy this fingerling from shipping varies from free to free with a purchase. Now is the time to think ahead and make presents under your tree a whole lot cheaper.
If you like this, you may like these...