Sam, Starbucks Barista With Autism, Meets Ellen For An Amazing Surprise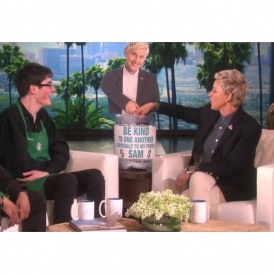 Sam is a 17 year old, Starbucks barista who is pretty much like any teenager his age. The only difference is Sam has autism and has been told all of his life that he'll never be able to have a job because of his disability.

Sam was determined to defeat the odds and attended a camp for kids with autism that focused on helping people with disabilities develop job related skills to improve their chances at future employment. While at the camp, Sam met Chris, a store manager at Starbucks in Toronto Canada and the two immediately bonded.
Sam always dreamed of becoming a Starbucks barista, and thanks to Chris' faith in Sam, that dream finally became a reality.
With a lot of patience and hard work, Sam was able to learn the drinks and now makes them mostly independently as a Starbucks barista. He uses his dance moves to help manage his movement disorder and improve concentration. Pretty amazing stuff! Check out this video to see Sam having fun and keeping his customers happy at work!

Sam and Chris were invited to be on Ellen to share his amazing story and encourage those with disabilities to pursue their dreams. While there, Ellen offered a gift to Sam that he'd been dreaming about his whole life. Check out this video to see Sam's wildest dream come true...
Want more amazing articles like this? 'Like' us on Facebook for more! Let us know your thoughts on this amazing moment below!