Mom Wears Chewbacca Mask In Kohl's Parking Lot, Starts Hysterically Laughing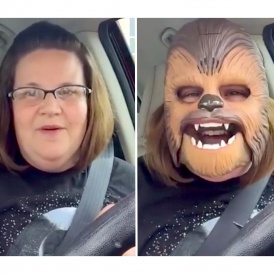 More than 30 million people have tuned in to see the pure joy experienced by Texas mom Candace Payne, who excitedly put on a Chewbacca mask in a Kohl's parking lot creating a hilarious moment we will never forget.
Payne, a huge Star Wars fan, saw this awesome mask at Kohls, and knew she had to have it. As soon as she got to the car Candace, already decked out in a Star Wars t-shirt, popped on the mask and began recording broadcasting the unboxing of her new toy to the world.
She discusses letting her children, Duncan and Cadence play with the toy, but declares that at the end of the day, the mask will live in Momma's room. You'll see below she says, "I'm not a bad mom, I'm not a jerk, but at the end of the day it doesn't go in their toy box, it goes in my room." Too funny!
If you're like us and want to scare your kids... The mask has now sold at Kohls but if you hurry you can get it on sale at Toys R Us before it sells out if you click here!

Now the video has gone completely viral and the internet force is with Candace; the video has had over 32 million views and 900,000 shares!
Deservedly so. She could not stop laughing, and neither could we.