Where To Buy L.O.L Surprise BIG Surprise In The US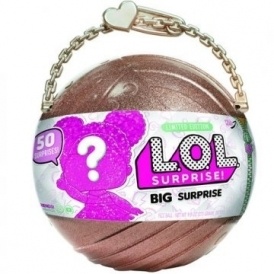 Looking for where to buy L.O.L Surprise BIG Surprise In The US this year? L.O.L Surprise Dolls are going to be one of the best toys for 2017 this holiday season and will be flying off shelves!
These super popular Christmas toys have gone completely viral on Youtube and Facebook and there are bunch of stores that will be selling L.O.L Surprise BIG Surprise toys in the US so we'll be keeping track where you can pre-order them, where to buy them, and stock levels.
Share this page with friends and bookmark it to keep up on where to find L.O.L Surprise BIG Surprise in stock:
In Stock:
Out of stock in all stores, best option is buying 3rd party. Bookmark for updates on stock changes.
Limited Stock/Delivery/Higher RRP:
Out of Stock:
How much are L.O.L Surprise BIG Surprise? They're not cheap, actually most stores will be selling for $69.99 and as you know, with stock going fast prices will nearly double come the holidays because of the demand (why your best off buying early.)
What exactly are L.O.L Surpise Big Surprise? Inside you'll find 50 surprises inside (can check them out on YouTube). Inside there are a bunch of layers (three to be exact) the first layer has 10 surprises which are doll accessories, second layer has 5 charm fizz balls, the third layer has two L.O.L Dolls and two L.O.L sisters.