Where To Buy The Fingerlings Untamed Collection 2018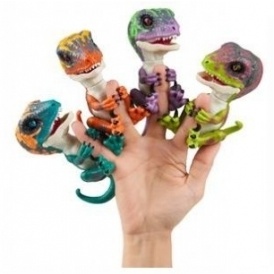 We've got some huge news to share on the Fingerlings front, with the announcement of new Fingerlings coming this year.
If your little one loves dinosaurs, then you're going to love the news on the new Fingerlings Untamed Collection.
WowWee has just released the first video of the Fingerlings Dinosaur Collection and they look totally awesome, rest assured, my kids will definitely be going nuts over these again this year.
While the toys have just gone on sale in the UK, Canada and Australia, they are expected to start selling in the US in May and as soon as they do we'll have them right here.
In Stock
Will be sold in stores in May, check out the video release teaser here.
Limited Stock (Higher RRP)
eBay — prices from $34 (ship from Canada)
Out of Stock
Target — coming soon.
Walmart — coming soon.
Amazon — coming soon.
The magic of the Fingerlings Untamed Collection are the little dinos come in untamed mode, in untamed mode Fingerlings Dinosaurs will roar hiss and chomp!

Then, let your little one 'tame' their little Velociraptor where suddenly they nuzzle, pur and love affection. I'm not gonna lie, I love the concept of these!
Fingerlings Untamed (just like normal Fingerlings) react to touch, affection, motion and sound and have over 40 different sounds and animations.

There are four different characters available in the Fingerlings Untamed Collection and each has their own unique name and personality: Stealth, Blaze, Fury, and Razor.
Make sure you bookmark this page and share with friends before they get here!
If you like this, you may like these...