How to Use BuyBuyBaby Coupons & Offers

From time to time, you can get discount of between 20% and 30% at BuyBuy Baby, via the use of their coupons. However, these coupons are usually tied to your account email address or phone number. This means that you cannot use generic coupons that you find all over the web. We'd recommend that you sign up for an account at the online store, get the sign-up discount mentioned above, and then watch out for more and more coupons in your email.

When you receive such offers, this is what you will see when you progress though checkout: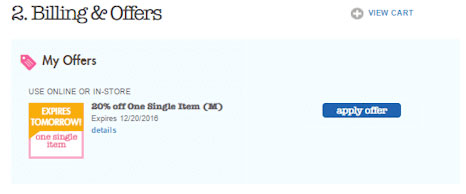 As you can see, if your account is eligible for any offers, they'll be waiting there at checkout, ready for you to redeem. BuyBuyBaby doesn't have a "promo code" field like many other online stores, but instead, they use this method to reward their loyal subscribers.