Today Only Get An Extra 30% off Select Baby Items + 15% Off $100 @ Kohl's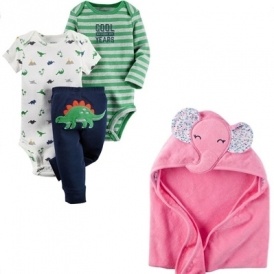 Wow! If you thought the bodysuit deal the other day was hot - Check this one out! Today only at Kohl's you can get an additional 30% off on select Baby & Toddler Clothing, Shoes & Gear when you enter the promo code BABY30 at checkout! Combine that with the huge Baby Sale happening now thru 1/22 and you can score huge deals on big baby brands!
To make these deals even sweeter, you can also stack the BABY30 promo with the CATCH15OFF promo we mentioned earlier this week to get another 15% off when you spend $100 or more. This extra 15% off will apply to the balance forward after the 30% discount code).
You can get free shipping with any order of $75 or more. Otherwise, shipping starts at $5.95 for orders under $75. Or you can always opt for their free in-store pick up if it's available on your purchase!
Here are a few ways that you can totally take advantage of this deal.
If you want to stock up on some essentials for your baby or have some gifting to do for new babies expected this year check out this mega-deal!

Buy 4 Baby Carter's 3-Pack Graphic Bodysuit & Pants Sets for Baby Boy or Baby Girl for just $11 each (regularly $22) = $44
Buy 3 Baby Carter's 4-Pack of Bibs or Burp Cloths for $12 each (regularly $24) = $36
Buy 3 Baby Carter's 5pk of Bodysuits for $13 (regularly $26) = $39
Buy 2 Baby Carter's Animal Hooded Towels for $12 each (regularly $24) = $24
Total Price before codes = $143
Enter the promo code BABY30 to get 30% off select baby items today only
Enter the promo code CATCH15OFF for an additional 15% off $100+ purchase
Final Cost = $85.08 shipped! For 41 Carter's items that's just $2.08 a piece!
And you can mix & match any combination to reach your totals. Just remember that the 15% off code is applied after the 30% discount so you have to have a total of $100 still remaining on your order after the 30% off is applied to qualify for the extra 15% off.
If you don't need to place a large order you can still make out like a bandit with smaller purchases. Here are some other notable single buys you can score with the 30% off today:
But there are plenty of other items to choose from too. So go nuts. And be sure to let us know how you mixed and matched your deals with this one!