40% Off Toms Shoes @ Zulily!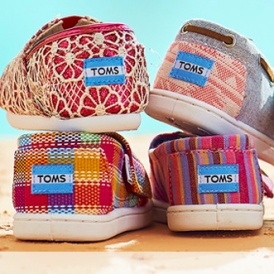 If you're a fan of Toms then you are going to want to head over to Zulily ASAP! That's because Zulily has brought back their sizzling Toms Shoes Sale where you can score these awesome shoes for everyone in the family for up to 40% off!! No promo code or coupons needed!
Just dash over there, login to your account (or sign up for a free account if you don't already have one), and then browse all the Toms Shoes for you, dad and the kids. They have so many styles and colors to choose from and with prices this low you won't have a problem finding a pair everyone will love at a great price.
Toms brand is well known for their quality shoes but it's their mission that really sets them apart; when you shop Toms you are getting a great pair of shoes but also making a difference.
If you're not familiar with Zulily yet it's time to check it out. You'll find out quick why it's become a favorite among moms. They have these awesome flash sales and items of the day and so many products for you, your child and family that other moms rave about.
Oh but this Toms sale ends in five days and at these prices they are bound to go fast so get there quick mamas!