6 Pack Old Spice Men's Timber Body Wash Only $9 @ Amazon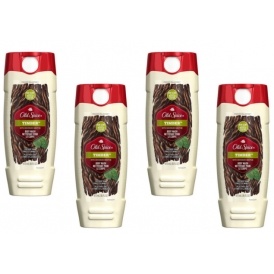 Love smelling your man with Old Spice deodorant? You have got to try the body wash! It is absolutely amazing and right now you can grab a 6 pack for only $8.88 when you "clip" the coupon located under the sale price.
These huge 16 ounce bottles go for $3.74 at Walmart for each bottle! Buying them here you are only paying $1.48 each and saving $2.26 each! This price is way better then coupons ever thought about being.
This body wash even has sweat protection! Not only do I love it but the hubby loves it too and this stuff is all he will buy in the store. So I stocked up and now were good for a couple months.
This 6 pack comes in the scent Timber which is a woodsy like smell that will rejuvenate your body, soul and senses. Plus its not only a body wash but if you have short hair like hubby you can use it as shampoo too!
This awesome deal is selling fast and slowly going on backorder but at the time of the post it will ship to you in 2-4 weeks and if you buy now you lock in the price and won't be charged until it ships.
Plus Amazon prime members score free shipping! While non members can snag free shipping with an additional $13.12+ purchase