Batmobile Pedal Go Kart $122 (Reg. $173) @ Jet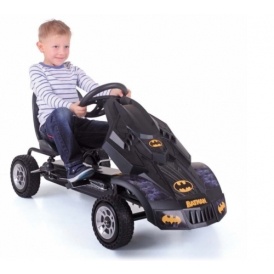 Whoa if this doesn't look like the coolest ride-on out there I don't know what is. Plus its on a huge sale!
While going for $173+ everywhere else right now you can score this Batmobile for only $128.52 at Jet! Even sweeter you will earn 5% back in Jet cash bringing your total even lower, its like paying $122.09 after you get the cash back.
What kid doesn't like Batman? He is an old time favorite that is loved by parents and children alike making this Batmobile a very popular ride.
Plus unlike most rides this has rubber wheels so your sure your little one will be able to go go go in the grass, pavement and anywhere else their super hero adventures take them.
Even sweeter it goes forward and backwards and is totally kid powered so you don't have to worry about charging a battery for it just to go dead minutes later. Plus it has a 3 point steering system so they will be able to drive literally anywhere.
To top off this amazing find it also ships completely free straight to your door! This Batmobile is so awesome its sure to make every kid excited.