Carter's Baby Bodysuits Only $2 Each @ JC Penney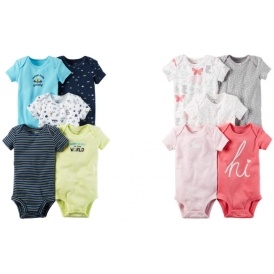 Wow we just spotted a deal on Carter's Bodysuits that truly just made my day!
Right now JC Penney has Carter's 5 pack bodysuits for $26 but when you add 4 of these packs to your cart and enter promo code 4DEALS at checkout your total drops from $104 to $36.40! This breaks down to only $1.82 each!
Finding a deal this awesome on Carter's bodysuits has me totally excited. I snagged them up the second we spotted them and can't wait for them to arrive.
Carter's makes clothing that all mommas and babies alike can love. They are super cute and super durable. I first started using Carter's brand with my first born and loved them so much that I continued with each of my children.
They also have 4 packs marked in this sale as well which would make your bodysuits just a bit more then $2 each but still an amazing deal for Carter's brand. You can mix and match any of the packs to hit your 4 pack total.
To save on shipping opt for free in-store pickup otherwise shipping is free with a $99+ purchase. Even if you decide to pay for shipping you still can't go wrong with this amazing find.