Doody Head Game Just $12 @ Amazon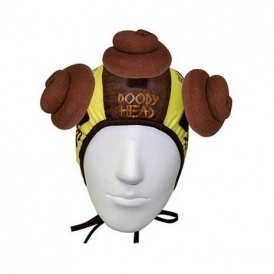 Oh lord, just when you thought you'd seen it all! Head over to Amazon where you can score this Doody Head game for just $12.96. It's selling for closer to $20 or more elsewhere. Plus it's Prime-eligible so you can score free 2-day shipping if you have Prime or free standard shipping with an order of $25 or more.
As a mom it's usually my mission of each day to avoid having poop flung on to my head. But these are at least mess-free so I guess this time is the exception.
These velcro clad hats are like doody magnets for the three lightweight fabric poos that come with the set. Each person wears the cap and tosses the poops at the other person's head. Try and catch the most doody on your head.
This would be a hilarious game to play around the table after the holiday plates are cleared while the family is all together. Anything that involves poop is usually a hilarious hit at our house.
Each game set comes with two caps, three pieces of "doody", and game instructions. Everything is made of 100% cotton.