Storm Glass Weather Bottle Forecaster $7 + Free Shipping @ Walmart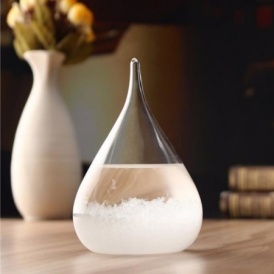 This is pure magic in a bottle! Ok maybe not magic as its the way the weather has been forcasted for years but it is totally awesome and changes from clear, cloudy and thunderstorms to tell you what is coming.
Plus its priced at just $6.94 and the perfect gift for yourself or that person who has everything.
The patterns made with this storm glass are gorgeous and makes for a stunning decoration on any desk, dining table or fireplace.

I got one of these gifted to me for my birthday and I had no idea even what it was. But since then it has turned into a beautiful decoration that also tells me what to expect weather wise for the day.
I love mine so much Im coming back to purchase another one as a gift to my sisters birthday. The idea of this might have been around for ages but its still as mesmerizing as ever.
To top off this amazing deal it also ships completely free straight to yourself or even send it as a gift to someone else.