Teenage Mutant Ninja Turtles Mega Mat With Car $16 (Reg. $30) @ Toys R Us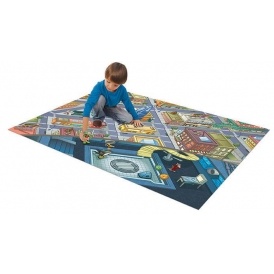 Calling all Teenage Mutant Ninja Turtles fans! This mega mat is totally awesome and on a huge sale saving you nearly half off right now.
Usually this mat set is priced at $29.99 but on sale right now for $19.98 even sweeter when you enter promo code CLEARANCE20 at checkout it falls to just $15.98!
This promo code also works on almost all clearance items to save and extra 20% on! You can Click Here to view all the Toys R Us clearance.
If this isn't the coolest thing ever I don't know what is. My kids have this exact mat over at their grandparents and every time they go over they bring a ton of toys to play on it.
They are literally like little angels every time they go to play with this. In fact the only thing you hear from them is their shrills of laughter and when their cousin comes over she plays with it just as much.
Plus this isn't just for TMNT you can use cars, trains, trucks, action figures you name it and my kids have played with it on here. This has been one of the best toys my mom has ever bought for them and I highly recommend it.
To save on shipping opt for free in-store pickup otherwise shipping is free with a $29+ purchase.