The Big One Pillows Only $2.40 Each (w/ Code) @ Kohl's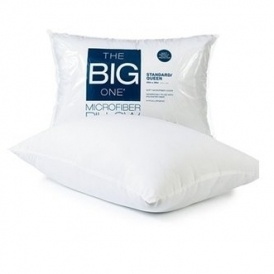 Need some new pillows around the house? Hop over to Kohl's right now and use promo code TAKE20 to score Kohl's signature The Big One Pillows for just $2.40 each.
Even sweeter, to save on shipping select free store pickup to make this deal even sweeter. These are the perfect backup pillows, get over and stock up while you can.
If you need some backup pillows for the holidays or some extra pillows for the kids rooms, these are a great option. The quality isn't the best, but for just $2 per pillow this is a great deal.
We always have a ton of sleepovers around this time of year, with family staying over on the holidays we can never have enough pillows. Using promo code TAKE20 will bring these down to just $2.40, these are all regularly $12+ so getting them at a fraction of the price is a bargain.
These pillows are hypoallergenic and the description says that have a soft microfiber cover and are filled with polyester fiber. Select free store pickup to save on shipping.