GlowBowl Motion Activated Toilet Nightlight $8 Shipped @ Amazon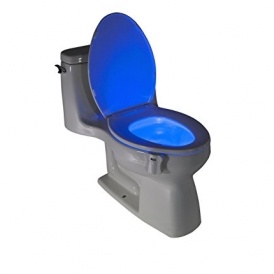 Have you mommas seen these yet? Right now you can get these GlowBowl Motion Activated Toilet Nightlights fit for any toilet for just $7.54 shipped at Amazon! These are regularly priced $20+
This is genius! Especially for a kid's bathroom (or any household with boys or husbands who already have aiming issues - don't get me started).
No need to keep a nightlight on constantly so they can find their way to the commode with this deal! And this will definitely make potty training more fun and also help you have less messes on your hands in the mornings too.
This nightlight is battery operated (3 AAA's) and ultra-tight waterproof design plus you can change it to your choice of 7 different colors with just a touch of a button.
The shipping comes free automatically with this item so you don't even have to have Prime to get it shipped free. There are other Prime sellers that have this item listed for a few bucks more and are Prime eligible though if you'd rather go that route. Just click here for a list of other sellers.