3 Pack Boon Spill Proof Straw Cup Converters $8 @ Amazon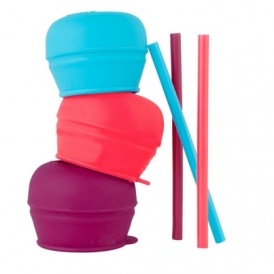 Sometimes I believe that I clean up more drinks then goes in my childrens stomachs. Which is going to make these life savers. They fit on any cup and make them spill proof!
Plus right now they are on sale for just $7.99 for the 3 pack!
Sometimes I miss those sippy cup days. Every since the kids outgrew them my house as turned into a constant spilling cup special.
But not anymore with these awesome tops. They fit on any of our cups and will turn them from a knocked over mess to a spill proof dream come true.
No more wasted milks and juices in this house which will pay for themselves in no time flat.
Plus if you are like me and somehow loose straws no worries here these cups will also work with any straw! Making these even more sweeter as we are a straw loving family and have plenty to spare.
These ship free with Amazon prime. Not a prime member? No worries just bump your order up to $25+ to score free shipping.