Fun And Fitness Weight Bench For Kids $75 @ Sears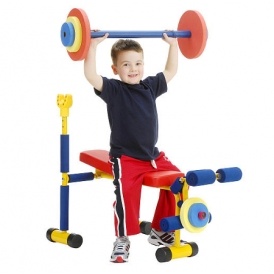 Do you have a little muscle enthusiast at home? My kids beg to work out when I do and what better time in bonding then to work out together?
This set is going for $100+ everywhere else and right now you can get a steal for only $75.80 shipped!
My kids love working out when I do. At first they used just do a few pumps of their own on our weight bench and we would have to take turns and remove weights and it was time consuming.
When I spotted this set last year I latched it up. This sits right beside our weight bench and no matter if me or hubby is using our set the kids can pump right along.
Its really an awesome bonding experience and its perfect for helping them stay motivated. I love how it looks just like our set and has all the bells and whistles too.
This set is super sturdy as well both of my kids can romp it and it has never showed. Its one of the best purchases I have ever made.
To top off this amazing grab it also comes with free shipping!