January Beauty Box $10 @ Target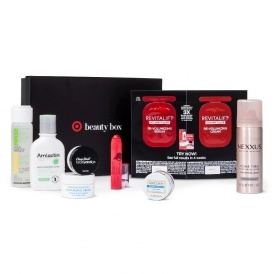 The Target January Beauty Box is here! This month's Beauty Box is $10 and features 8 beauty items for you to try out. Plus, as always, it ships for free.
This month's box features 8 awesome beauty items that will have you putting your best face forward in 2017. Check out what's included in the January Beauty Box!
eb5's Original Skin Care Facial Cream
Chapstick Total Hydration Lip Scrub
L'Oréal Paris Revitalift Volume Filler Re-Volumizing Cream and Serum
Nexxus Comb Thru Hairspray
Revlon Kiss Balm
Amlactin Moisturizing Body Lotion
Beautiful Nutrition Lemon Rinse Gentle Clarifying Treatment
Burt's Bees Intense Hydration Day Lotion
I can't tell you how many beauty products I've added to my regular routine arsenal thanks to the Target Beauty Boxes. I love being able to try them out before committing to buying their regular-priced full-sized versions.

If you haven't tried the Target Beauty Boxes yet, here's the deal - each month Target releases limited quantities of Beauty Boxes priced at either $5, $7 or $10 and chock full of sample and deluxe sized goodies for you to try out.
These boxes are always a flat fee and contain 4-5x their value in beauty products. Each box includes free standard shipping plus you can get yours even cheaper by scoring 5% off if you pay with your REDcard!

Then, if you love the items you receive in your Beauty Box, you can order their full sized version at Target.com/BeautyBox.
To try to help everyone be able to receive one, Target limits these boxes to one per customer. But they still sell out fast so you'll want to get yours fast before they're gone!